​Image Via Pixabay.com
As a homeowner, you rely on receiving a plentiful amount of hot water when you turn that 'H' faucet or step into the shower.
But the truth is that hot water heaters do not last forever, and the time will come eventually for you to seek a replacement, or select a unit for a new home.
Whirlpool has been providing water heaters for both residential and commercial/business use for decades, available from local plumbing supply businesses, independent plumbers, and big-box home retailers such as Lowe's and Sears.
Manufactured by American Water Heater Company (AWHC), Whirlpool water heater models are available in many capacities, sizes, and heat sources.
Types Of Hot Water Heaters
There are several major categories of hot water heaters on the market you can select from:
storage tank units that most homeowners are familiar with
also storage tank heaters, running on natural gas
storage tank heaters typically used where electric and natural gas unit are not practical
tankless heaters have become more popular in recent years. They can typically be installed in smaller spaces, or even utilized for outdoor needs such as portable/outdoor showers. Units can provide a constant supply of hot water on demand, running on electricity or natural gas, depending on the model you purchase. Tankless hot water heaters are also very energy-efficient.
– storage tank heaters that utilize newer technology combining electric and condensing gas operation. These hybrid units are extremely efficient and can save you money on operating costs, but typically require a much higher initial outlay.
Whirlpool Hot Water Heater Models
Whirlpool has you covered for your hot water needs with a wide variety of models and capacities for every home and family size.
Electric Hot Water Heaters
Electric heaters from Whirlpool come in many sizes and capacities, as well as variations on features and warranty periods: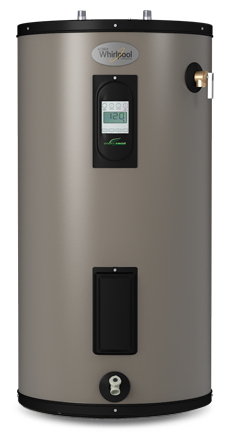 ​Image Via whirlpoolwaterheaters.com
Standard 40-50 gallon models with regular or Energy Smart electric features
Tall models with capacities of 30-50 gallons
Lowboy models ranging from 28-46.5 gallon capacity
Warranty periods vary from 6-12 years, depending on the model
Whirlpool electric hot water heaters provide self-cleaning functionality and also offer hybrid models for greater energy efficiency.
Natural Gas Hot Water Heaters
Electric heaters from Whirlpool providecost-effective solutions for your home, with many models available fromstandard units to high-efficiency Energy Star rated hot water heaters.
​Image Via whirlpoolwaterheaters.com
Standard tall models are offered with capacities from 40-50 gallons
Short models with capacity of 40 gallons are also available
Warranty periods vary from 6-12 years, depending on the model installed
Gas models include other additional features for low operating costs and safety:
Intelligent Control Logic – gas valves are electronically controlled by a microprocessor for better performance and efficiency

Electronic ignition – reduces gas consumption and eliminates issues with traditional pilot lights

Eco-friendly burners – Green Choice burners for low NOx and reduced emissions

LED status indicator for quick reference to unit status and self-diagnostics monitoring
Liquid Propane Hot Water Heaters
For liquid propane applications, Whirlpoolprovides 5 models with a variety of sizes and capacities:
​Image Via ​whirlpoolwaterheaters.com
30, 40, and 50-gallon tall models
30 and 40-gallon short units
All liquid propane hot water heaters carry a 6-year warranty
Advantages Of Whirlpool Hot Water Heaters
Whirlpool hot water heaters offer features that may ease the mind of many consumers seeking a new or replacement unit.
Consumer Affairs offers their own expert opinions on Whirlpool hot water heaters, expanding on some advantages of purchasing the company's products:
Professional installation available from retailers such as Lowe's.

Assistance with installation – Whirlpool's web site includes installation guides and helpful videos for do-it-yourselfers.
Online questionnaire to help you determine the best hot water heater for your location and requirements.

Variety of types and sizes available – something for every situation.

Technology – Whirlpool's 6th Sense Technology provides more energy-saving benefits for homeowners, with tighter gas valve temperature controls on equipped models and self-diagnostics to monitor the status of your hot water heater.
Flame Lock feature to prevent ignition of flammable vapors. American National Standards Institute (ANSI) has established a requirement for resistance to such ignitions which can be extremely dangerous with older hot water heaters. In Flame Lock water heaters, combustion occurs in a sealed chamber, eliminating this hazard. More details about how Flame Lock operates are available on the Whirlpool web site.
Whirlpool Hot Water Heater Reviews
Happy Customers Have Their Say
Satisfied customers have plenty to say about their experiences: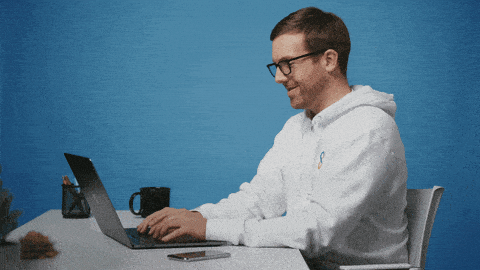 GIF Via giphy.com
"I bought the Whirlpool model e2h50rd045v electric water heater to replace my failing gas water heater on July 21, 2014, and had it installed a couple of weeks later after a little over 3 years of use. The water heater is still working with no issues or major problems. I'm happy with the decision to purchase this water heater."

"My water heater burner went out after just over 3 years caused the pilot to go out. I was worried that although all parts were covered for 12 years and labor for only 3 and the labor would be very expensive. When I called and told them about the problem they said the part was covered and would ship it next day air but 10 minutes later another rep called and said they would cover the labor as well and to check a nearby service company as they might have the part in stock. Long story short without having to scream and yell my problem was corrected within 8 hours and all I have to do is drop off the new burner at the service company when it arrives. I have been lucky and haven't had many warranty problems in my life but none that I have had have been resolved so painlessly. I will never buy anything but Whirlpool from this day forward. Thank you Whirlpool."

"Be forewarned, the tankless systems use a bit more gas on demand and may require you to upgrade your gas line to the heater. I was contemplating going tankless and by time I was finished talked to several plumbers and researching my needs, I was spec'ing out two 199,999 BTU units which required a new direct 1.25 inch gas line from the meter. There would have been no return on investment."

"We have had this hot water heater for roughly six months, we got it when our ten-year-old Bosch sprung a leak. I like the higher energy efficiency of the Whirlpool as well as the smaller container size (width) of this unit. It provides more usable space in the garage. It is very quiet as compared to our old unit and seems to produce the water faster at temperature. Unfortunately if I have to replace this unit I will need to get a bigger tank size, as the 50 gallons just doesn't seem to be enough . As an example: no one has used any hot water, going to take a bath, and halfway through the tub fill up the water is cool coming out of the faucet. While it most likely was my mistake when purchasing the unit, I was forced to work with the funding I had at the time. Thus the fifty gallon tank. Now if I had to replace this unit I would go with the Whirlpool again as it was fairly easily to install (just heavy). I would, however, get a bigger tank which has a larger gallon capacity."

"I have lived in my home for almost three years and I have ever had a complaint about my water heater. I have only lived in my current home for three years, but I know that the water heater is about six years old. I love that I have plenty of water pressure and that my water doesn't get too hot. My husband likes to take showers with only hot water, and it has never burnt him. I have little kids so it was important that we were able to adjust the temperature of our water heater. I love that I can take a long shower and not have to worry about my water getting cold. We can also use both showers at once with no problems. My water heater also reheats very quickly, and on hectic days that is truly a blessing. I have never had to replace my water heater but I am sure that when the time comes I will be looking for another Whirlpool. I would highly recommend this product to a friend. Five stars!"
Other Customers Tell A Different Story
​Image Via unsplash.com
A Whirlpool water heater review would not be complete without opinions from opposing views. Not every homeowner is happy with their Whirlpool hot water heater:
"If I could give them zero stars I would. NEVER BUY A WHIRLPOOL GAS WATER HEATER! Our Whirlpool water heater Is 4 years old. Pilot light wont stay lit. A reputable plumber came out and said that the control knob is bad and to call Whirlpool to get part because it's still under warranty. So I call and get nothing but a hassle."

"We have had a Whirlpool hot water heater for 6 years and 14 days. Note the 14 days. It has been nothing but trouble and we have called the company repeatedly for help. It finally stopped working altogether 14 days after the warranty ran out. Thank you Whirlpool for nothing! It had a filter on the bottom of the heater that constantly had to be cleaned which was next to impossible. We had to buy a special brush to try to reach it. My husband had to take it apart several times a year and clean it to keep it running. Whirlpool should have replaced it within the first year but instead offered many suggestions about cleaning and etc. so they would not have to replace. Today it is out of my house for good and I would advise anyone reading this to beware! Horrible product!!!"

"Never buy Whirlpool, they are not helpful and do not stand behind products! We have had 2 80 gallon tanks in 2 years. I would never, ever recommend this brand of tank, as the helpline does not want to reimburse any money and all they give is lip service!"
How Do You Select A Hot Water Heater?
Your selection of a hot water heater is based on a few basic questions:
How will you fuel the heater? This is probably the easiest question, which narrows your selection to electric, natural gas, propane, or tankless.

How many people live in your home, and what length of showers do you need to accommodate on a typical morning (or evening)? This will help you determine the capacity in gallons youshould provide for.

​Where will the water heater beinstalled? Space constraints and venting requirements may also limit yourchoices for the model you need.
Whirlpool provides a simple buyer's guide to help step you through the selection process.
Consumer Reports is also a great resource for in their review of multiple brands and types of hot water heaters. Some CR's guidelines on features to look for:
​Corrosion-resistant glass tanks

​Brass vs. plastic drain valves

​Warranty period and coverage

Technology such as energy-saving characteristics and digital displays that provide system status
Investing In A Whirlpool Water Heater
​Image Via Pexels.com
Regardless of the type of water heater you need, your investment in a Whirlpool hot water heater is backed by a company with a commitment to quality, energy-efficient products and global sustainability.
Whirlpool is well-known for their many top-quality brands for homeowners:
​Hotpoint

​Kitchen Aid

​Maytag

​Amana
​Jennair

​Gladiator

​Swash
The Whirlpool name also extends to many other brands well-known throughout the world.
Whirlpool's code of conduct is supported by their creed that "there is no right way to do a wrong thing." This is the standard that the enterprise adheres to throughout Whirlpool's global operations, and it pertains to business practices, environmental concerns, and truth in advertising.
Whirlpool hot water heater reviews are only one factor in your decision to choose a Whirlpool water heater for you home. Reliability, performance, and company reputation are equally important attributes to consider. These elements are why you will want to consider Whirlpool hot water heaters for your home.
Whirlpool is the leading manufacturer of major home appliances, and they can provide the hot water heater that's right for your application.