This Trane thermostat guide is a great place to research your next thermostat. It provides an overview of the thermostat models available, their pros and cons and the top models in each series. The guide concludes with important issues to consider as you determine which thermostat is right for your HVAC system.
Trane is one of the best-selling brands of residential HVAC equipment in the world, and the Trane thermostat lineup supports its split system and package units. Most Trane thermostats can be used with equipment manufactured by other brands too, as long as system capabilities such as single-stage or multi-stage heating/cooling match.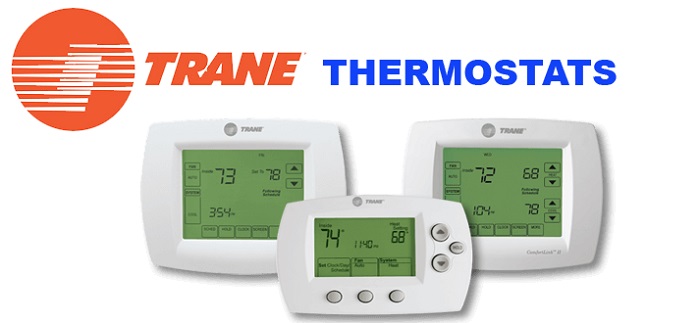 Trane Brand Overview
John Trane started the company in the late 19th Century, and he began manufacturing the Trane Vapor Heating System in 1910 when his son Reuben received a mechanical engineering degree and returned to the family business in Lacrosse, Wisconsin. Since that time, Trane has been an innovative leader in the HVAC industry.
The Trane brand has changed hands several times, but now is owned by Ingersoll Rand, a Fortune 500 company with manufacturing plants across the globe. The company also makes American Standard HVAC components and thermostats that are essentially identical to Trane models.
Trane Thermostats Technical Specifications
There's a Trane thermostat for every application, from a single gas furnace to an HVAC system equipped with multi-stage heating and cooling components. Your system will work most efficiently and durably when the components and thermostat are properly matched.
Trane thermostats are available in models supporting single-stage and two-stage cooling and single-stage to modulating heating for all conventional gas/electric, heat pump and dual fuel HVAC systems.
Filter-change reminders and built-in memory of your temperature settings are standard on most Trane thermostat models.
Programmable Trane thermostats offer 5-2 weekday/weekend programming and full 7-day programming where the schedule for each day can be unique.
Trane interactive thermostats include models with 4.3-inch screens and 7-inch screens.
Wi-Fi/Ethernet Trane thermostats make it possible to access and control the thermostat remotely using a smart device.
Z-Wave and Nexia Bridge connection thermostats and ComfortLink II thermostats from Trane can be part of a complete smart home automation system.
Trane's best thermostat, the ComfortLink ™ II XL950 thermostat, displays a live-weather, 5-day forecast and radar.
Models XL824 (4.3-inch), ComfortLink II XL850 (4.3-inch) and ComfortLink II XL950 are Wi-Fi connected and feature full-color, high definition touch-screen, interactive displays.
Trane thermostat models like the support room-by-room zone heating systems.
Pros and Cons of Trane thermostats
There are many reasons to choose a Trane thermostat for your HVAC system and a few potential negatives to consider before you make you purchase.
Trane Thermostat Pros:
Trane has an outstanding reputation for innovation, quality and durability, so Trane thermostats should provide dependable service for the life of your HVAC system.
Trane programmable thermostats can lower costs by more than 10% when programmed to reduce heating or cooling when the house isn't occupied.
Wi-Fi connected thermostats from Trane allow you to monitor and control your heating and cooling system from any connected device including your smartphone or tablet whether you are across the room from the thermostat or across the globe.
Trane's ComfortLink II system is controlled by the thermostat and coordinates the function of the AC, heat pump or furnace with the air handler or blower to optimize both indoor comfort and energy efficiency
Most Trane thermostat models work with Trane Comfort-R equipment to reduce humidity when the system is in air conditioning mode.
Trane Thermostat Cons:
While Trane has an impressive worldwide reputation, its products are priced higher than most leading competitor's thermostats without a significant quality advantage.
Trane's thermostat warranties are about average when compared with industry standards.
Your Trane thermostat must be registered within 60 days to keep the best warranty coverage in force, a policy like those of other leading thermostat manufacturers, and if not, the unit will be covered by Trane's Base Limited Warranty with significantly poorer coverage.
Multi-stage Trane thermostats should be installed by a qualified and experienced professional to ensure proper system performance and efficiency, so DIY installation is not recommended and may, in some cases, void the warranty.
Things to Consider Before Purchasing a Trane Thermostat
Your selection of a Trane thermostat is secondary to choosing the HVAC components it will control. Your first step is to decide whether to heat your home with a gas or oil furnace or a heat pump that provides air conditioning too. If a furnace is your choice, then you'll need a central air conditioner to complete the split system, at least where desired. Trane package units are available, but since their efficiency and performance levels are not as good as split-system components, they should only be considered when a split system is not an option.
Once you have settled on the components for your HVAC system, then it is important to select a Trane thermostat with the capability to handle the system's performance including staged or variable-capacity heating and cooling
If you have a very regular schedule, then a Trane programmable thermostat that is not Wi-Fi enabled will be sufficient and cost less than Wi-Fi models. When your schedule varies from day to day or is unpredictable, a Wi-Fi connected thermostat allows you to turn down heating or cooling while you are away and then increase it as you return home. This is the best way to reduce utility costs while ensuring that your home is comfortable when you arrive.
Trane makes some of the highest-rated thermostats, and a spectrum of options are available. They are an outstanding choice whether your HVAC system is made by Trane or another top manufacturer.
Which thermostat is right for your home? Leave us a comment below with your thoughts or any questions you have about Trane thermostats, and we'll respond. And, if you think this information will benefit your Facebook friends and other social media followers, please pass it along!