The State Water Heater group offers solutions for all your water heating necessities in many shapes and forms. The State Select Water Heater range is one of their particular trademarks, so it wouldn't be a surprise if you found yourself pondering to purchase one product.
Overview
State Water Heaters was founded in 1946. Its legacy started with Herbert Lindahl, who opened a small business that produced coal and wood-burning stoves. Their place of activity was a mere garage in Nashville, Tennessee.
According to the histoire on their website,
"In the years that followed, State expanded and became a leader in the water heating industry, through steadfast commitments to seeking new materials, new technology and innovative engineering techniques."
State's first water heater was produced in 1948. By 1996, State had grown into one of the world's biggest water heater producers with over 10,000 units being produced every day. It was in the same year when State introduced the Premium and Select lines.
Product Lines
State's products are targeted mostly for residential use and they come in different sizes and distinctive types. The State Select Water Heater line comes with tall, short, and lowboy models and several specialty electric models. They also offer gas and product products.
Their water heaters can be gas-based, propane-based, tankless, electric, heat pump, or commercial.
State Select Water Heater – Electric
The models of this variety can be mostly classified in six fundamental categories, each one of them having their own specific models.
High Efficiency water heaters;
State Select Residential models;
Table Top electric water heating appliances;
Select Junior tank type electric units;
Point of Use water heater;
State Select Solar Booster Tanks.
#1 High Efficiency
Specifications for High Efficiency State Select Water Heater products:
EF (energy factor): 0.93
5'' thickness
Insulation value R, 20
As the name suggests, the High Efficiency types of water heaters are intended to be energy efficient appliances. This can be achieved through the use of thick insulation foam and heat trappers. They use a standard wattage of 4,500 W but there is an increased power option for a 6,000 W model.
A comparison worth making is between this State Select Water Heater and the Premier models. Upon analysis, you discover that the High Efficiency select is thinner but that the recovery rate is identical, regardless of the size.
There is a total of five models of this category, four of which are designed as tall with a maximum height of 61.5'' and tank sizes between 40 gallons and 80 gallons. There is, however, one medium tank, sized 49'' and with a capacity of 60 gallons. The models can be found below.
ES6 40 DOCT – 40 gallon capacity
ES6 52 DOCT – 50 gallon capacity
ES6 66 DOCT – 66 gallon capacity
ES6 80 DOCT – 80 gallon capacity
ES6 50 DOCS – 40 gallon capacity (medium size)
#2 Residential
The Residential State Select Water Heater is the most common and it provides the biggest selection range for all those interested. You can acquire a Select electric water heater in tall, short, and lowboy models. Both the tall and the short options come in several specific products, whereas there is only one lowboy available.
Specifications:
Recovery rate: 21 gallons per hour
Temperature rise: 90 F
Insulation value R: 16 (exception is the 38-gallon Lowboy model ES6 40 DOLNS, which has the insulation value R of 12)
5 kW heating power
Standard heating element voltage: 240 VAC
The Select tall models have a pretty impressive range of tank size capacity, varying from 30 gallons to 119 gallons. The minimum height is of 46.5'' whereas the maximum is 64.25''. The range of the diameters is between 18'' and 28''.
It's noteworthy that when you're looking at 30-gallon models, they are mostly differentiated by their energy efficiency. Despite being the smallest, the ES6 30 DORT is the most savvy when it comes to energy efficiency, with an EF of 0.93. On the other hand, we have the biggest 30-gallon model, the ES6 120 DORT, whose EF drops significantly behind the former's, banking in only 0.81.
For the short State Select Water Heater, you can only opt for one of three tank sizes: the 30-gallon, the 40-gallon, and the 50-gallon capacity. Their diameters range from 20.5'' and 22'' and their heights are included in a scale from 36.5'' to 48''. Just like in the previous situation, the smallest unit, the ES6 120 DORT, is the most energy efficient, proving itself with an EF of 0.93. We also give a special mention to the ES6 50 DORS, whose first hour rating is 60 gallons despite it being a 50-gallon model.
The lowboy only comes in one model with different tank capacities. The most popular options are the 30, 40, and 50-gallon ones. The height range is between 30'' and 34'' but the difference shows up in the width of the tanks. Despite the fact that they provide the same capacity as the tall models, they're wider in diameter, stretching at sizes of either 22, 23, or 26.5''.
#3 Table Top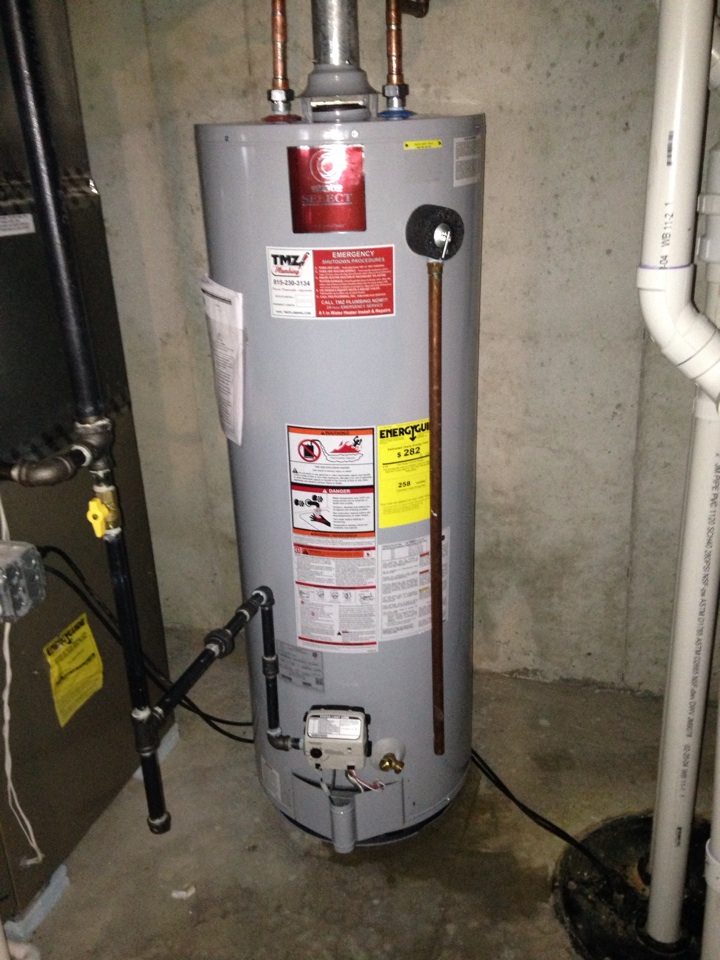 The table top models are named in a way that references to their secondary purpose. They have a flat upper surface and a height of 36'' which makes them perfect for all your kitchen needs. It becomes one of your useful appliances, as well as an extra counter for storage purposes on top of it.
The most popular type is the square one, which measures 36″x25″x21″ with the possibility to go 36''x25''x24'' as well. The tank sizes are either 27 gallons or 40 gallons. All in all, the Table Top State Select Water Heater is created to become an integral part of your kitchen and to help you with all your water heating needs.
#4 Junior
It's understandable that not everyone can afford impressively-sized water tanks. Knowing this, there is a specific State Select Water Heater which caters to the needs of those of you that either don't have enough space, either wish to preserve the one they have. This solution is the Junior model.
Specifications:
Recovery rate: 8 gallons
Temperature raise: 90 F
Heating element wattage: 1650 W
Maximum available voltage: 240 V
The capacity range of the tanks is reflective of the intention of the creator to make this State Select Water Heater a space-friendly addition. It's because of this that the smallest one is the mere 6-gallon type. At the opposite end, we have the maximum 38-gallon capacity.
The two 29-gallon and 38-gallon models, the ES6 30 SOMS K and ES6 40 SOMNS K, are powered up by 6,000 W as a result of 240 V and two heating elements. The other smaller options in this range of selection only require one heating element and their maximum wattage can be of either 3,000 W or 4,500 W.
#5 Point-of-Use
A Point-of-Use State Select Water Heater is useful in situations of low demand, for office lavatories or for buildings with remote restrooms. Their purpose is to fulfill the requirement of small amounts of water.
We'll referentially use the ES6 2 SSUS K model, which is a tank type with a modest capacity of 2.5 gallons. The maximum heating power is of 1500 W, which is provided by 120 V. The 7-gallon recovery rate is for a 90 F temperature rise.
#6 Booster
The final State Select Water Heater type available in this line of products is the tank type Booster. It's also referred to as the Solar Booster, as its purpose is rather to supplement the heating caused by solar energy rather than do it solitarily.
Available for you are two electric types with 80-gallon and 119-gallon tank capacities. In order to provide a consistent water temperature, both of the types are equipped with density copper heating elements with a 4500 W power boost.
The Boosters are equipped to withstand corrosion curtsy of the addition of two aluminum anode rods. Moreover, they're also highly energy efficient, as the units come with 2'' insulation foam layers for better functions.
State Select Water Heater General Lines
Although they're separated by some specifications, all of the State heaters from the Select gamma have some things in common.
Tanks and component parts come with a six-year warranty. Depending on your preferences, you can opt (for some models) for an upgrade to a 10-year warranty instead. The Junior and Point-of-Use heaters use a different system, though, as they come with a one-year warranty for the tank and a three-month warranty for parts.
The maximum working pressure is of 150 psi.
Tank is lined with glass in order to provide a layer of protection against corrosion and rust.
Conclusion of Consumers
Opinions for State tend to be mixed, mostly because there are some particular models that really bring their products down. The State Select Water Heater field, however, is generally well-received. The selection range is enough to mold on the needs of everybody and there is a certain trust warranty that comes with the long history of the company in this environment.