When purchasing a new water heater, you have an important question to ask: do you go with a tank-equipped heater, or decide to go tankless? Each of them comes with their own sets of advantages and potential drawbacks, but for bigger families, you might want to consider the latter.
Navien creates a variety of tankless water heater models that can almost instantly give your entire house access to hot water. Whether it's washing dishes, running a bath, or putting another load of laundry in the washer, a Navien tankless water heater will get the job done.
If you've never used a Navien tankless water heater before, you might wonder what the fuss is over a tankless option.
The truth is in the amount of money you'll spend on heating for a heater with a tank. Traditional water heaters use a ton of energy, and the resulting bills can cause headaches during colder months, especially for bigger families. Not only are tankless heaters more energy-conscious, but they save a lot of space. You won't have to worry about knocking down a door to install a new tankless heater in your house.
Image Via ​appropriatereview.com​​​
Hooking up a tankless water heater is easy. All you need to do is connect it directly to your plumbing system, and the heater will do the rest of the work. The temperature increases dramatically quickly when compared to a water heater using a tank.
There are a few different models for Navien heaters, all of which have been reviewed. Some are better suited for smaller houses and simple tasks that don't involve too much water consumption.
Because so many different kinds of Navien models exist, it's best to look at each of them in individual detail.
NPE-240-A
Overall, the best answer to "Which Navien tankless water heater should I buy?" has to go to the NPE-240-A model. It makes your life much easier in all aspects, from installation to performance.
With other traditional water heater models, you might run the risk of setting the temperature a bit too high on the heater itself. This can cause burns for you and the younger members of your family. You don't want the water to be boiling hot the second it comes out of the tap. On the 240-A, you can find simple arrow buttons on the display module that let you set the temperature without any confusion.
Navien installs a preheating technology in each of their tankless water heaters that eliminates much of the time it takes to get hot water. You're probably used to waiting a minute for the shower to get hot, or for the water in the sink faucet to get hot enough for dishes to soak.
Image Via ​progas.ca​​​
Overall rating: 5 out of 5 stars
With the preheating feature, you don't have to stand and wait anymore. After only a few seconds, anyone trying to get hot water in your house will be wondering how they lived with other slower heaters.
The 240-A is meant to work with all standard half-inch gas lines throughout your home. You can also install it into different types of pipes with varying lengths, including PVC pipes that run up to 2 inches. With this in place, you can safely vent out any excess gas that might circulate throughout your house from the water heater.
This tank also comes with a recirculation pump, ensuring that you have water continuously running through the heater. You won't have to worry about any water passing through the heater without gettingup to the needed temperature.
The 240-A is stainless steel, which will prevent you from worrying about corrosion or rusting throughout the life of the heater. Considering that tankless water heaters are meant to last for decades, you'll probably appreciate this.
Yes, this model sounds almost exactly the same as the previous water heater in this review. The difference in the NPE-240A Premium is in the name and directly relates to how the heater performs. The condensing design in the Premium model is meant to make the heater run even more efficiently than the base model.
As a result, you'll find that your bill for gas will drop significantly. Thanks to the Premium edition, it will condense the gas inside each pipe to grant you more powerful heating with less effort.
Image Via ​progas.ca​​​
Overall rating: 4.5 out of 5 stars
Both of the stainless-steel exchangers will last longer than other exchangers you would find in cheaper kinds of metal used with traditional heaters. This gives you perfect temperatures according to the settings you program into the panel.
When you turn on a faucet, water will directly come out of your pipes, passing over the heat exchangers. This quickly raises the temperature before the heater presses it through the lines to wherever your sink is located. If you know your way around the installation, you can hook this heater directly into your gas pipelines in your home.
The same preheating technology found in the original 240-A model is also inside the Premium version. There's no need for a flow per minute reading in a tankless water heating so you can skip that statistic completely. With a tankless water heater like this one from Navien, you'll feel the temperature rise earlier. Like other models, it's tailored for direct connection to your home's gas lines.
If saving money is your number one priority when putting in a new water heater, the NPE-210A Premium is your best bet. There are many different members of the Navien family, but none of them match the energy efficiency relative to its size than this one.
Thanks to the condensing features, you will use less gas while focusing on the tasks you and your family need. The 210 is smaller than the 240, so this model will work best for those with a lighter household. This will also cut down on the amount of floor space that the heater occupies.
Image Via ​progas.ca​​​
Overall rating: 4.5 out of 5 stars
You'll notice a drop in your utility bill as soon as you get this Energy Star-certified model installed. You can also convert this directly to your home's layout in case you don't have the typical gas pipes in your house.
On the heater itself, you'll notice the digital screen that looks just like one of your internet-enabled mobile devices. You won't have to worry about how to correctly input the temperature with the easy instructions found on the heater. The preheating ability from the 210 rivals anything else in the Navien family. Even with a smaller model, you won't have any trouble getting hot water as soon as you want.
This member of the Navien family is specifically designed for those who heat their homes with natural gas. While others are all compatible, you might want to consider the NPE240S-NG if you know you'll be in the same place for a specific amount of years. The initial investment is less than other Navien heaters, so you'll save money up front as well as in your heat usage.
The 240 NG also uses stainless steel connections at the top for both intake and outtake of water. It lets water pass directly over the heating source, speeding up the process compared to what you would get from a tank model.
Image Via ​thebestflushingtoilet.com​​​
Overall rating: 4.5 out of 5 stars
Having two exchangers on a natural gas model makes a huge difference in the amount of hot water you get in a short time. Thanks to the field-conversion compatibility, this model will adapt to any setup your home has.
Don't expect any drop in performance because of the specific requirement for natural gas on the 240 NG. You'll get the same preheating speed and intelligent design seen in each of the Navien heaters reviewed already.
If your house runs on propane and propane accessories, the NPE-210A-LP is the one for you. It's one of the best offering from all of Navien, and you'll be the envy of your fellow homeowners if they also use propane.
In case you need to make some changes to your house, you can also put in a new half-inch gas line or install a two-inch vent to move the excess runoff out of your home. You can convert this model into a home that uses another type of gas, but this should be reserved for experts only. Don't attempt this unless you've previously installed heaters.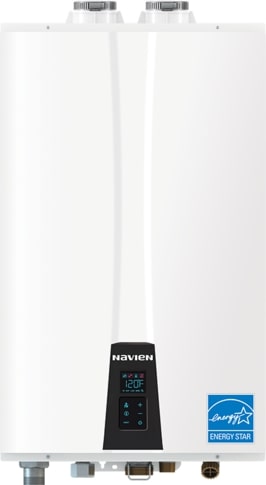 Image Via ​thebestflushingtoilet.com​​​
Overall rating: 4.5 out of 5 stars
For apartments and small homes that use propane as a source of gas, this choice of heater is perfect. The minimal amount of space it takes up gives you the extra room you need inside a home that might not have a much square footage as a full house. You could also use this inside a second getaway spot, like a cabin or cottage.
Saving money on your heating bill is simple with the use of the temperature setting on this heater. All you need to do is keep it lower and you'll notice a measurable difference in the amount you pay. The best place to use the 210A-LP is a spot where the ground water is already warm. It still heats very quickly, but the capacity is lower than other models on the list.
NPE-180A
The simple and contemporary look of the NPE-180A might trick you into thinking it's some other kind of appliance. Made to look like a refrigerator or washing machine, this model takes up much less space than you would expect from a water heater.
Image Via ​progas.ca​​​
Overall rating: 4 out of 5 stars
While the space required for this heater isn't much, it measures 150,000 BTU for its gas input. This means a ton of heating possibility once it's hooked up and ready to go. This can do a lot for a small home that has many people inside. Even if you use it for multiple showers and/or loads of laundry, there will still be enough energy for running the dishwasher.
If you need to, the temperature setting can be adjusted to Celsius settings at any time. This makes measuring and conversion much easier if you live in an area that doesn't operate on American scales, or if you're used to the metric system.
Buying any of the Navien tankless water heaters on this list is simple. You can find them on Amazon, and many vendors will offer free shipping. With weights up to 100 pounds, this will save you a ton of money on shipping costs. There are also big-box store options like Home Depot and Lowe's if you prefer to pick up your heater in person.
Image Via ​sheknows.com​​​
What you'll have to watch out for is getting one installed. Although putting in a tankless water heater requires less effort than one with a tank, it still should be left to the experts. In some cases, choosing to put in a water heater on your own could void the warranty. Pay close attention to the terms when buying a Navien.
If you're looking for a solution to your previous problems with a water heater, you can't go wrong with a Navien tankless water heater. Thanks to the engineering from Navien, you'll have access to hot water at speeds you didn't know possible if you're coming from a tank model.
Depending on the setup, size, and equipment of your house, there is a Navien model made for you. You could choose one of the models specifically designed for a certain type of gas, or you could simply convert another one to fit your building. Some of the smaller models will also work if you have a vacation spot in mind.
You'll be especially thankful for the Navien tankless heater once you open up your heating bill. Not having to constantly get new hot water circulating through your pipes is one of the biggest advantages of a tankless version. No matter which version of the Navien heater you buy, you'll be happy with your purchase.