Workers specialized in the science of heating, refrigeration, and air-conditioning do not usually receive the recognition they deserve. The newer generations perceive management and services instead as career fields worth their time and effort. The pressure to get a college degree is passed on to the young, along with the stigma of becoming a blue-collar worker. For example, many believe hands-on labor brings little in terms of financial gain. Yet, the average HVAC technician salary hits a high note on the skilled labor pay scale.
And not undeservedly. First of all, it takes training and certification to become an accredited HVAC technician. Secondly, working in the field can be more than uncomfortable – try replacing the desk and swivel chair with Spartan-like conditions in cramped spaces and either freezing or boiling temperatures. Incidents like electric shocks, burns or muscle strain are all in a day's work.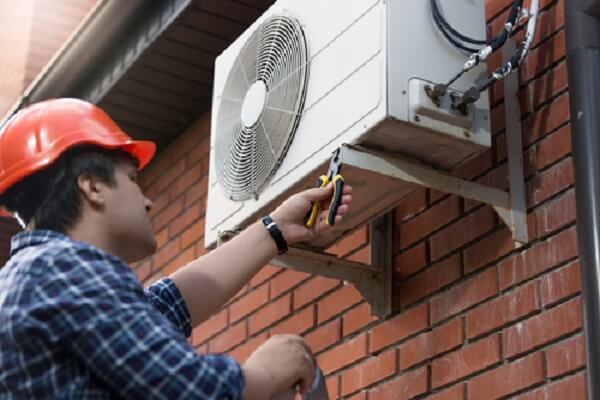 No pain, no gain' applies just as well to the profile of an HVAC technician. We're all too eager to call one in times of need. Yet, we haven't the slightest idea of what the job title entails. The demand for such skilled labor is certainly on the rise across the country. The industry is promoting new technologies every day. That means the HVAC technician has to keep up with the training and required certifications if he/she wants to stay competitive.
In the following article, we're going to peer into the everyday life of an HVAC technician. The requirements for the job, the perks and lows of blue collar employment.
Is the Average HVAC Technician Salary Worth Working Up a Sweat?
Becoming an HVAC Technician– An All-Season Career
When did the need for an air-conditioning repair man come into being? Most likely, the answer will take us back in time to the first installation of a residential AC in 1931.
The first design to sit on a window ledge has been a trademark for the air cooling device ever since. The demand steadily grew, if only among the well-heeled at first. At the time, one unit would carry a price tag of up to $50,000, the equivalent of $600,000 today.
Once 'coolth' – the artificially cooled air – became a commodity, Americans found it less painful and horribly sweaty to live in the gulfs and swamps of the Southern parts. Every heat-sodden season brings a new increase in the demand for professionals who can install, maintain and repair those miraculous devices blasting invigorating cold.
An HVAC technician's knowledge extends to more than fixing your home AC. If you're behind your acronyms, know that HVAC is an abbreviation for heating, ventilation, and air conditioning. Someone who writes down this skill in his CV knows how to control the temperature, humidity, and total air quality in a building. Short of endowing him or her with god-like omniscience, we do need to recognize our dependency on an HVAC technician in terms of comfort and even wellbeing.
Many such skilled workers will specialize in either installation or troubleshooting a heating or cooling system. However, their training will comprise both. If you're a high school student and about to embark on this path, you must be interested in tinkering with electrical equipment. More often than not, curiosities gravitate around mechanical drawing, electronics, applied physics and chemistry, and blueprint reading.
Educational Requirements
According to new statistics released by the Bureau of Labor Statistics, a nationwide shortage of HVAC technicians has recently coupled with a rise in the industry jobs, leading to a predicted growth of 14% from 2014 to 2024. Fortunately, the numbers fare well for those young people enthused about fixing, troubleshooting and installing.
To meet this demand that seems to have sky-rocketed much faster than the average for all occupations, 115,000 new skilled professionals will be put on the payroll in the next ten years. The same report from BLS stresses that those applicants who have completed postsecondary education or a professional three-year apprenticeship have better odds at finding a job. Employers prefer laborers who invest in formal HVAC training, even if in the form of classroom instructions. The latter can take place at a trade or technical school, or within the US Armed Forces.
Anyone with a blueprint on earning a steady and decent HVAC technician salary should read further on. Below is a brief synopsis of HVAC certification, a requirement of the U.S Environmental Protection Agency, or EPA, for anyone tinkering with electrical equipment that releases chemicals to the atmosphere.
Training – No Sweat, No Gain
Many people wrongly believe that an HVAC technician only receives nominal training or, worse yet, plays with hazardous equipment by the ear. Even before the first exams roll in and the pressure of acquiring the proper state certification hits home, a wannabe HVAC professional undergoes lengthy training of anywhere between 6 and 24 months at a technical school.
The classes range from electrical and gas systems to troubleshooting a heating system and communicant practices. At the completion of the course, the applicant will most likely achieve an associate's degree.
Apprenticeships are also on offer, but span to around 5 years and earn the apprentice on-the-job training under the supervision of an experienced journeyperson. An aspiring residential HVAC technician can contact the local union or a community college to enroll for an apprenticeship.
Three Must-Have Certification to Obtain that High-Paid HVAC Technician Salary
Sweat Out the Exams
The NATE, or North American Technician Excellence certification is the most prestigious on the market and a golden ticket for HVAC technicians who want to push through the ranks to higher paid employment. Although it's not legally required, the certification will surely prove a deciding factor when facing a job prospect.
In order to obtain the NATE certification, you have to prove your book smarts. You will be handed a knowledge-based exam that tackles heavy scenarios and tricky problems. In the end, the reward will be commensurate with the effort you've invested. Your standard HVAC technician salary should increase, along with the lists of clients.
The second HVAC Excellence certification comes as the result of the 'Professional Level' exam. To earn it, you have to bring two years of field experience and a decent exam score on the table. The test will be comprised of questions regarding residential heat pump and ventilation services.
The Master Specialist Level in HVAC Excellence Certification is the equivalent of a proficiency language test. This type of certification represents the pinnacle of an HVAC technician career. To obtain it, you need to make proof of three years of field experience plus a Professional Level Certification.
The EPA Section 608 Certification
The Environmental Protection Agency requires HVAC technicians working with equipment and containers that use refrigerant as a hazardous compound to obtain a special certification.
The EPA Section 608 consists of four different types or levels, each of which pertains to the various equipment the technician will have to maintain, repair or dispose of. Before your head starts swarming with all the accreditation needed in order to earn that daily HVAC technician salary, you should know that you are not required to pass all the four exams. Depending on the duties at hand or the job you wish to pursue, you can obtain only the certificate of interest.
Type I Certification – Specific for the service of small appliances such as domestic refrigerators, window air conditioners, and vending machines.
Type II Certification – HVAC technicians whose main job is to install, repair, and dispose of appliances containing high-pressure refrigerant such as process refrigeration, residential air conditioners, and heat pumps need to acquire this type of certification.
Type III Certification – This third type is required of HVAC technicians who install and service equipment with low-pressure refrigerant, such as chillers and other industrial appliances.
Universal Certification – The fourth type is the most complex and difficult to attain. As the name goes, it requires the professional to have the ability to install, repair, and dispose of all types of equipment, independent of the refrigerant type.
In order to pass any of the EPA exams above, you need to achieve a score of at least 72%.
State Licensing for HVAC Technicians
Some states require a license from the HVAC technician. If you move to another state, it's important to contact the local professional licensing department and inquire about the proceedings of getting the proper certification.Which begs the question. Which regions or states does the median HVAC technician salary score highest?
As mentioned before, as HVAC employers are experiencing difficulties filling job openings and the market is dealing with a talent shortage, the prospect of a higher paid HVAC technician salary is increasing exponentially.
According to the aforementioned 2015 report, the U.S. Bureau of Labor Statistics indicated a median HVAC technician salary of $21.69 per hour. In other words, $45,110 per year.
While an entry level professional can expect to earn $27,210 a year, or $13.08 an hour, a master HVAC technician can earn a decent living wage of $62,210 per year, or $29,91 per hour.
Geography plays a role in the income variations as well. Depending on the demand and local living costs, wages are higher in some states than others. Alaska ranks first as the highest-paying state, averaging $62,210 per year. The District of Columbia and New Jersey follow close suit as the golden rush states for aspiring HVAC technicians. Surprisingly enough, Arkansas and Alabama rank the lowest with less than $30,000 per year.
All in all, you have the potential to make a great salary as an HVAC technician. Plus, the job outlook for the next ten years only displays positive signs of expansive growth and high demand. Consequently, the poorly paid and overworked blue-collar worker – at least in the HVACR field – is a busted myth. We wonder, are there any other misconceptions and prejudices to address?
Busting Some HVAC Myths
​

To be an HVAC technician you need to belong to a union. The statement couldn't be farther from the truth. According to a BLS report, only 1 out of 6 professionals are in one and there is absolutely no requirement to get a union job.
HVAC is an unstable work field. As mentioned above, the demand for HVAC techs is only growing and, seeing how global warmth and the greenhouse effects follow suit, we can only expect an increase in improved ventilation and air conditioning technology -with the appending specialists to install and maintain it.
HVAC play it by the ear. HVAC technicians are skilled workers with just as many diplomas and certifications to back their knowledge as in any other profession. It's not easy to become an accredited HVAC professional. You need to be competent in mechanics, proficient with the inner working of electricity, an accomplished troubleshooter, and a decoder of complex blueprints. We won't even mention all those EPA exams and state licenses that await an apprentice HVAC tech.
There's no room for women as well in the HVAC field. HVAC is a unisex profession, and women have been on the rise as HVAC techs in the last five years.

​
Bottom Line
If you're an aspiring HVAC technician in this day and age, you shouldn't worry too much about unemployment or low job prospects. The average HVAC technician salary is only the rise, and all the better if you're not tied to one location and can shift your geographical coordinates around. For example, how does Alaska sound to you?