Those days when you used to argue with the rest of your family about the temperature in the house are over and done with. You don't even have to get up off the couch or be at home anymore, because Honeywell have introduced their brand new super 'smart' line of thermostats, specifically designed for you to control via your smartphone. The Lyric thermostat is so smart that it will actually sense when you come home or when you leave and it will set the temperature in every room according to that. It's a revolutionary product and here are all the details you need to know about it.
The Honeywell Lyric's Design
The Lyric thermostat is a round device, with a white interface and chrome trimmings. It has a rather small round touch pad in the center that normally displays the temperature. On top of this brand new smart thermostat you will find a screen shaped like an arc, which is there to tell you if the Lyric is cooling or heating up. You also have a weather icon to the left which, upon touch, will tell you the local weather. On the right you have the 'Away' button, which will allow you to set your preferences for when you are not at home.
The way in which you can operate the device, meaning turning the temperature up or down is by gently turning its outer ring. As far as the design goes, the Lyric thermostat also comes equipped with a white plastic shield that you can use or not, if you wish to cover up any holes in the wall.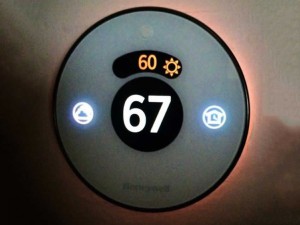 Installing Honeywell's Lyric Thermostat
Fortunately for all home users out there, installing this super smart thermostat is actually very easy, thanks to the people over at Honeywell. First of all, you need to download the Lyric app on your smartphone, because you will receive all the instructions there.
Then you need to shut down the system's power. After you're done with that, mount the thermostat's baseplate on to your desired wall, cable in all the required wires and then strap on the top half to the baseplate. This piece will complete the set up and hide all the wiring.
You can then connect to the Lyric thermostat through your phone, as long as you have Wi-Fi. While connected, you need to configure the device to the hot and cold temperatures your desire, tell it the type of system you have and let it know your location. Reviews report that, on average, installing a Honeywell Lyric thermostat takes somewhere between 20 to 25 minutes and it doesn't require a pro to come in and do it for you. You can do it yourself. Make sure it's well wired before you turn it on.
In order for the Lyric thermostat to work, it will need one lithium AAA battery, which you will need to change every year. Something that you need to know about the installation process is that, after you have put the battery in, you have to let the heating mode run for 5 minutes, then the cooling mode for another 5 minutes, so that the smart thermostat can determine what are your HVAC system's power requirements.
The Lyric's App
Reviews show that the app as well, just like the thermostat in itself, is very easy to use and will become your best friend when it comes to acclimatizing your house. When you open it, a small circle placed at the top of your screen will show you the exact temperature in your house, even if you are away from home. The background will be either blue, for when the thermostat is in cooling mode or amber for when it's in heating mode.
Below this, your entire interface will show your event settings, which you can configure according to your preferences, like "I'm leaving", during the day or "I'm going to sleep", during the evening. You can even set the Lyric thermostat to go into Eco mode, for night time and you will find that this particular feature will save you a lot of money when it comes to your heat and electricity bills.
The app itself allows you to virtually control the device from anywhere you are, as long as you have a smartphone, a tablet, or an Apple watch.  It has the Geofencing function that uses your location to control all your settings in an automatic way. For example, if you set it up correctly, the programmable Lyric via the Geofencing function will know to start heating up your home right before you come home so that you don't walk into a freezing house.
Another great app that comes with the Lyric thermostat is the Fine Tune one, which will make slight changes in the inside temperature according to outside weather conditions. So, you really don't have to worry about anything, just sit back and let the Lyric take care of everything.
It also has a Smart Cues alert which will notify you when your Lyric requires attention, like replacing one of its filters, its battery, or some service. You can use whatever Apple device you own and link it to the thermostat, even your Apple watch, and you can use Siri as well in order to give it commands. However, Siri requires you to install the Apple HomeKit first.
Apple's HomeKit works like an intranet, which takes control of all your home products via its apps and enables them to interconnect. Privacy is a given with this Apple add-on, so you needn't worry, because all your personal data is encrypted at all times. This means that when you program your lights to turn off or your thermostat to turn on, for example, the only people who will be aware of these changes and of your settings are the ones who are actually inside the house at that given moment.
As far as the app and programming goes, it will also send you signals or notifications when a person enters or leaves your house, but some users reported that it actually took a few weeks before this feature kicked-in properly and started notifying them about human transit through their house.
On the cons list, users also added one problem that Honeywell seems to be aware of and working on as we speak. The thermostat is not compatible, unfortunately, with every kind of wireless router. So, make sure that you check what kind of router you have before purchasing and installing the Lyric, at least until the mother company takes care of this issue.
Users have also found the Lyric to be a major update in the thermostat world from Honeywell's older digital models, such as the DT90E, the DT92E, the Honeywell Electric TL8230a1003, the TH8110u1003, FocusPRO® 5000 Honeywell digital thermostat or the VisionPRO 8000. Therefore, when it comes to replacement, the Lyric is the way to go.
Key Elements to Be Aware of Before Installing
Here are some technical facts you need to know about the digital Lyric thermostat, so that you can make sure it's completely compatible with your house.
As far as third party products go, the Lyric works with Apple devices, Samsung SmartThings, and the Apple HomeKit. Apart from that, even if you do have Apple products, you need to set them properly in order for them to work with the Lyric. You can find the instructions on Honeywell's website.

The Lyric app works with Android as well, versions 4.2 and above, which means starting with Jelly Bean, but Apple is preferable. It's not supported, however, by Blackberry or the Microsoft technology.
There are a number of third party apps that can hook into the Lyric and which you can use in order to make it work even better, but you need to check their website to see exactly what those apps are, what they do and how you can install them.

The Lyric Honeywell thermostat can also control your dehumidifier. If you don't have one, it's capable of dehumidifying your home via your air conditioner.

In order for all the Lyric's apps to work you need to have Wi-Fi in your home at all times. If you don't, the apps won't work, but you can still use it as a basic thermostat and make the changes manually. Be aware that, in this case, the thermostat will be non-programmable remotely.

The Lyric comes equipped, right out of the box, with a wallplate, a trim ring which is optional, two screws that you will need for mounting, its wall anchors, and a Quick Start Guide that is basically a manual and which will show you how to install and use the thermostat.

If you have troubleshooting problems, you can visit Honeywell's website, where you will find all the help you need.
The Honeywell Lyric thermostat retails for $279 and it's one of the best smart thermostats out there. It offers a variety of apps that will truly make your life easier and definitely more comfortable.