General Electric began manufacturing a new type of energy-efficient residential water heater in 2012, after years of simply selling GE-branded Rheem units. This new GE water heater, manufactured in the United States, is the GeoSpring hybrid electric model. Four years later, the company that now owns GE's appliance division, Qingdao Haier Company, Limited, sold this product and its production equipment to the United States company, Bradford White. Today, the GeoSpring is branded and manufactured by Bradford White as the AeroTherm. New and refurbished GE-branded GeoSpring units are still available on Amazon and eBay.
What Is A Hybrid Electric Water Heater?
Sometimes called a hybrid or heat pump water heater, this type of unit captures as much heat from the air as possible and transfers it to the water in its storage tank. It's supplemented by an electric heater as needed. This combination uses less than 50% of the energy required by a conventional all-electric water heater, according to the American Council for an Energy-Efficient Economy (ACEEE).
The same technology is used for heat pumps which serve as home heating units. Fans pull heat from the surrounding air into the unit, while a compressor transforms the refrigerant gas into a liquid. The refrigerant liquid is returned to its gaseous form by an evaporator, and the resulting heat is transferred to the insulated water storage tank by coils wrapped around it. The air cooled by this process leaves the unit through a different vent.
Non-hybrid water heaters include on-demand (tankless), condensing, gas, electric, oil and solar. These differ mainly in the method used to heat the water, the efficiency, the resulting energy cost and whether a storage tank is involved.
GeoSpring Specifications
Five Heating Modes
The GeoSpring has five modes selected with the control panel's Mode button: Vacation, Electric Only, Hybrid, High Demand and Heat Pump Only.
1
Vacation Mode
Saves power when you're away. You set the number of days (3-14) you'll be gone, and the GeoSpring will use the most efficient heating mode it can to keep the water at 50 degrees Fahrenheit. One day before you return, it will begin heating the water to the usual temperature via the usual heating mode, so it will be comfortable when you arrive.
2
Electric Only Mode
Heats the water quickly, using both electric heating elements but not the heat pump. The fans are not needed. This is the least-efficient mode but is on par with standard electric water heaters.
3
Hybrid Mode
Is the default energy-efficient heating mode. It uses the heat pump and supplements it with the electric elements as needed. It maintains the flow of hot water as an all-electric heater would, at a much lower energy cost.
4
High Demand Mode
Keeps the water hot when more than usual is needed. The heat pump runs until demand increases beyond normal. The electric elements are then used to heat the water faster, to keep up with demand. This requires more energy but maintains the hot water recovery rate. When the demand decreases, only the heat pump will be used. In this mode, the electric elements are utilized sooner than in Hybrid Mode.
5
Heat Pump Only Mode
Is the most energy-efficient. It takes longer but keeps your costs low as only the heat pump is used.
Easy-To-Use Control Panel
This GE water heater includes a simple control panel. A very readable LED display shows the current water temperature setting in Fahrenheit or Celsius. You can easily adjust it with the arrow and Enter buttons next to the readout. The current operating mode is indicated by an LED and is changed with the Mode button. The Filter button resets the dirty filter alarm after you've cleaned and reinstalled the air filter. Another button overrides the Appliance Communication Module (ACM) power saver operation.
Water Tank Capacity
Two sizes are available. The standard, adequate for most families and homes, has a storage tank capacity of 50 gallons. An 80-gallon version is also available.
First-Hour Rating (FHR)
The FHR of any water heater with a storage tank indicates how much hot water it can deliver before the temperature decreases. The 50-gallon GeoSpring's FHR is 65 gallons, the same as a conventional all-electric 50-gallon heater. This means it can deliver 65 gallons at the programmed temperature over the course of an hour. If more than 65 gallons are used during that hour, the temperature will start to decrease after the first 65 gallons are used. How quickly it decreases depends on the programmed operating mode. The 80-gallon GeoSpring has a correspondingly larger FHR.
Energy Savings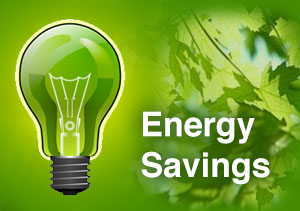 The GeoSpring uses less than half the energy of a standard electric tank-based unit, saving the average family of four approximately $365 per year in energy costs. These numbers are based on comparing 50-gallon conventional electric tank-based water heaters with the GeoSpring. U.S. Department of Energy test procedures were used, which showed conventional water heaters consuming 4879-kilowatt hours (kWh) per year while the GeoSpring used only 1830 kWh per year. An average national electricity cost of $0.12 per kWh was used to arrive at the $365 figure. The GeoSpring's electric usage ranges from 550 to 4500 watts, with a Uniform Energy Factor (UEF) in Hybrid Mode of 2.4.
Energy Star Qualified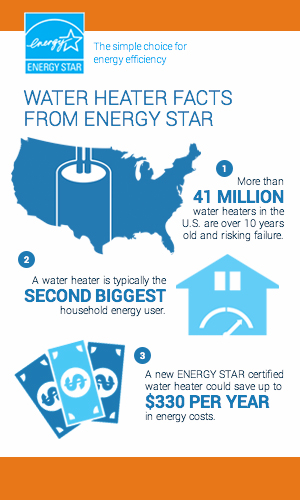 This unit is Energy Star Qualified, which means that it "meets or exceeds requirements for Energy Star per the latest Energy Star criteria revision, as well as most utility rebate programs." Therefore, it qualifies for state and local utility rebates and tax credits.
Standard Installation
This GE water heater installs just like a standard electric water heater, with water connections on top and the electrical connections you would expect. Additional space is required above and around the unit to draw in air for the heat pump.
A drain is also required for the condensate generated by the heat pump. As you may know, installing a catch pan with a drain underneath any water heater is a very good idea, to prevent expensive water damage to the surrounding area if it springs a leak.
Removable Air Filter
The heat pump includes a removable, washable air filter at the top of the water heater. This prevents dirt and dust from building up on the fans and evaporator. A filter alarm beeps when the filter is clogged to the point of reducing efficiency and potentially damaging the unit.
Warranty
While General Electric was manufacturing the GeoSpring, they provided a one-year labor warranty and a limited 10-year parts warranty. When the product line was sold to Bradford White, the new owners honored the existing warranties and took over all servicing. New Bradford White AeroTherm-branded versions of this water heater now include a six or 10-year limited tank and components warranty.
Tank Corrosion Protection
Like many other water heaters, the GeoSpring includes a magnesium anode rod in the tank to help prevent corrosion. If you have a water softener, the rod may need replacing sooner due to the high salt content.
Manufactured in the United States
The GE GeoSpring-branded water heater was manufactured in the state of Kentucky, and the Bradford White AeroTherm-branded unit is made in Michigan.
Optional Appliance Communication Module
An optional GE Smart ACM can be plugged into the jack on the GeoSpring's control panel to provide an extra power-saving mode. In some areas, the local utility company can communicate with this ACM, telling it what the electricity cost is at that moment of the day. The GeoSpring will use that rate to alter its operating mode based on the electricity cost. This will help keep your energy costs low, as the most efficient means of heating will automatically be used when electricity costs the most. The Power Saver button on the GeoSpring's control panel overrides this mode for 18 hours if you decide to use a less efficient mode.
Design Improvements
In 2013, GE redesigned the GeoSpring's evaporator and control panel to be more reliable after customer complaints. When Bradford White bought the product line and rebranded it as the AeroTherm in 2016, they made several design changes. The High Demand Mode, Power Saver override and ACM jack were removed. A cold-climate efficiency setting was added, and the minimum exterior air temperature for heat pump operation was lowered to 35 degrees Fahrenheit from 45. If the temperature near the tank falls below 35, the electric heating elements will be used until the air temperature rises to 35. At that point, the heat pump can be used. Redesigned heating elements are immersed in the tank for direct heat transfer.
GeoSpring Pricing
The purchase price of a hybrid electric water heater is higher than a conventional electric one, frequently two or three times as much. This high cost of energy efficiency is the main reason cited by Qingdao Haier for the small market share of this GE water heater.
GE GeoSpring-branded units are frequently available on Amazon and eBay from third parties. At the time of writing, Amazon lists a refurbished 50-gallon unit for $1100.00 and a refurbished 80-gallon unit for $1599.00. Several eBay sellers list new 50-gallon units from $850.00 to $999.99.
Bradford White AeroTherm-branded units are available from contractors and some home supply stores. At the time of writing, a new 50-gallon unit is listed by a store for $1399.00 while the 80-gallon is $1999.00.
How It Compares To Other Hybrid Electric Water Heaters
There are important differences between brands, even at similar price points. To make an informed purchase, here's what you should know about some of GeoSpring's competitors.
This Rheem unit is superior to the GE water heater in most ways except for the lower eBay price. It has a similar FHR, Energy Star rating, air filter and warranty to the GE and Bradford White units. The operating modes are also similar.
The Rheem senses water leaks, high temperature or pressure, and a variety of maintenance conditions. Most alarms are audible and can also send alerts via EcoNet to your Nest or Wink based smart home assistant, if you purchase the EcoNet Home Comfort Wi-Fi Module. Using this, you can set the water temperature and vacation mode from your smartphone or another wireless device. The GE/Bradford White unit has no smart home capability, and the Reliance's is limited.
Rheem also has a wider heat pump operating range of 37-145F. Rheem's fans are said to be very quiet, whereas users complain that GE's are very loud. Its UEF is 3.55, with an energy savings of up to $475 per year compared to a pre-2015 standard all-electric water heater. This is better than GE's $365 and Reliance's $419. The Rheem's LCD screen and longer vacation mode are also improvements.
Price: $1299.00 for 50-gallon, $1999.00 for 80-gallon from Home DepotSmart Home & WiFi: 5/5Alerts: 5/5Energy savings: 5/5UEF: 5/5Heat pump operating range: 5/5
The Reliance unit has similar operating modes, FHR, Energy Star rating, air filter and warranty to the other units reviewed here. It can be purchased at ACE Hardware, TrueValue, Friedman's and other home improvement stores.
The operating range for the Reliance heat pump is only 45-120F, the same as the GE-branded hybrid. It has a UEF of 2.75, better than GE but not as good as Rheem. The estimated energy savings of up to $419 per year is between Rheem's and GE's. The Reliance does allow you to take the longest vacation of the units reviewed. Its documentation doesn't mention any audible or Wi-Fi-based alerts for water leaks, high temperatures or pressures, or anything else. There's a vague statement that it is "SmartPort ready for connectivity to home management and utility SmartGrid applications" with no help on how to do that.
Price: $1299.99 for 50-gallon, $2049.99 for 80-gallon from ACE HardwareSmart Home & Wi-Fi: 3/5Alerts: 1/5Energy savings: 4/5UEF: 4/5Heat pump operating range: 4/5
Comparison Table
GeoSpring Pros and Cons
Pros
Manufactured in the United States
Bradford White Improvements
Reasonable energy costs
Least-expensive hybrid from third-party sellers
Cons
No smart home/Wi-Fi support
No water leak alert
Less efficient in very cold or hot locations
Loud fans
Complaints about GE Support (Bradford White may be better)
Conclusion
A hybrid electric model is the most energy-efficient tank-based water heater available today. GeoSpring, the GE water heater, is an adequate choice if you don't use a smart home platform and aren't concerned about the best possible energy efficiency and hazard monitoring. The Rheem hybrid is our favorite with an overall rating of 5/5.
​