Bradford White water heaters are among the best-selling in North America along with Rheem and A. O. Smith brands. The company is privately held with a history dating to 1881. Its products are made in the United States and are sold through a network of wholesale and retail dealers. This Bradford White water heater review includes an overview of products available, their pros and cons plus things to consider when purchasing a water heater.
We've produced a similar review page for Rheem water heaters and State Select models.
Bradford White Brand Overview
You've got an impressive range of water heaters to choose from with Bradford White. In fact, the sheer number of types can be confusing. So, we hope this Bradford White water heater review brings clarity to the process of choosing a model.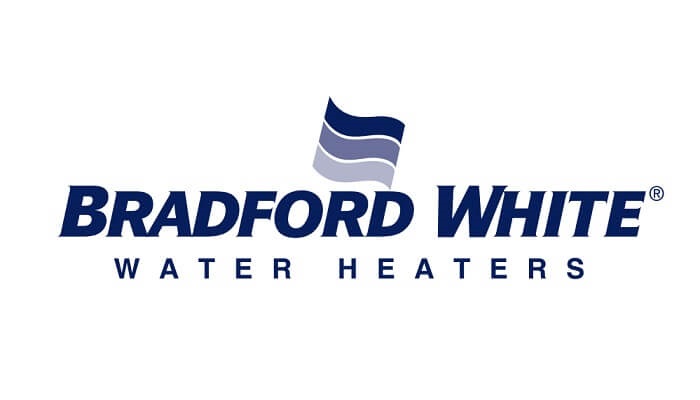 Your options are:
Storage tank water heaters in natural gas, propane and electric models;

Tankless water heaters in natural gas, propane and electric models;

Solar water heaters with either electric coil or gas backup;

Indirect water heaters that store water heated by a separate boiler, heat pump or solar heating system. A coil inside the tank that transfers heat pumps the water.
Bradford White Water Heater Technical Specifications
​

Natural gas and propane storage-type water heaters are made in capacities from 30 to 100 gallons;
Bradford White gas water heaters are available in Atmospheric Vent, Direct Vent, Power Vent, Power Direct Vent and High Efficiency models to meet efficiency and installation requirements;
Standard gas water heaters heat with 38,000 to 50,000 BTU. Meanwhile, high-input models heat with 85,000 BTU or higher for faster heating/recovery time;
Bradford White low-NOx and Ultra low-NOx natural gas water heaters are available from 30-gallon to 100-gallon capacity. These are useful for markets in which low emissions are mandated by law;
Power direct vent Bradford White gas water heaters pull combustion air in through a vent to the outside of the building. So, they are ideal when the structure has a tight envelope;
Natural gas combination heaters provide hot water and space heating. Also, models are available both with and without a heat exchanger to transfer heat from the water to the surrounding air;

​
​

Storage tank (tank-style) Bradford White electric water heaters are manufactured in upright models from 30-50 gallons and lowboy models for crawl spaces with 19-47 gallons of capacity;
Electric utility water heaters and wall-hung models come in several models with capacities from 6 to 19 gallons;
Bradford White AeroTherm water heaters use heat pump technology with electric element backup in 50 and 80-gallon sizes;
The two natural gas and propane Bradford White tankless water heaters(Infiniti) heat up to 8.3 gallons per minute and can be installed indoors or outdoors;
One electric tankless unit (Kwickshot) is available;
A line of Bradford White solar water heaters (EcoStor) includes electric backup and gas backup models.

​
PROs and CONs of Bradford White Water Heaters
Our Bradford White water heater review now considers reasons for and against this brand.
PROS
The comprehensive product line gives you choices for capacity, installation and venting requirements;
There are several Energy Star water heaters to select. The list includes gas, propane and tankless gas water heaters;
Propane water heaters are ideal for rural locations and other installations where natural gas is not available;
Low-NOx water heaters comply with low-emission equipment laws where applicable. They also give all homeowners the option of eco-friendly water heating;
Bradford White heat pump models keep water-heating costs to a minimum;
Tankless gas heaters offer efficient, on-demand water heating for single or multiple locations or an entire home;
Electric tankless water heaters suit single-use locations which don't have access to the main water system and where instant hot water is necessary;
Utility floor and wall-hung models are compact enough to fit under a countertop or in a small closet. This is even though their maximum capacity is just 19 gallons;
Tankless gas water heaters in natural gas and propane options feature built-in freeze protection for installation outdoors and in unheated space;
Tankless Bradford White water heaters fit gas connections of ½", ¾" and 1" for easy installation at a lower cost.
CONS
Our thorough Bradford White water heater review yielded these cautions.
The brand's combination water heater and space heaters, called Combi and Combi2 lines, start at more than $3,000. Also, the payback time for the increased efficiency and utility is likely more than 12 years, nearly the life of the units;
AeroTherm heat pump water heaters from Bradford White are expensive. Moreover, they don't heat water as quickly as gas water heaters. So, when demand is high, the benefit of heat pump efficiency is lost because the unit runs on its backup fuel much of the time;
Low-NOx models are not available in propane;
Consumers report problems with their Bradford White units at a slightly higher level than the industry average;
Bradford White water heater warranties are about average for the industry. Yet, some consumers report hassles getting the company to stand behind its warranties (a complaint heard about all brands to some extent).
Things to Consider Before Purchasing a Bradford White Water Heater
Gas and propane water heaters cost less to operate than electric but more than solar and heat pump water heaters. This is true for tankless models too – gas is more efficient. The downside is that gas units require a gas line and venting. So, installation is often twice as expensive. If you already have a gas line near the installation location, gas is a better long-term, cost-effective choice. It also heats water much quicker than electric coils.
High-efficiency water heaters become more cost-effective the longer you live in your current home. If you're moving in three years or less, a cheap electric or standard gas water heater will save you money when equipment and operating costs are considered together.
A tankless gas unit large enough to serve the entire house costs less than multiple smaller gas or electric tankless units. However, whole-house units cost more to operate because hot water sits in the pipes and cools, reducing efficiency. So, you've got to run the water waiting for it to get hot. In short, if you have one or two remote locations for on-demand water, small units make sense. For three or more locations, a single large gas tankless heater is the better choice.
The Bradford White Bottom Line
The conclusion of our Bradford White water heater review is that quality varies within the wide line of products. In our opinion, standard gas water heaters (atmospheric and direct vent) deliver the best combination of reasonable cost for the unit and lower operating costs than electric models.
If this Bradford White water heater review has been helpful, please share it for other homeowners to benefit from. Thanks for reading, and consider browsing our many water heater reviews and helpful articles for a wealth of research information.