An Armstrong air conditioning is every homeowner's and office worker's dream. It is one of the few pieces of home equipment that you can trust to keep you as cool as you need to be. The Armstrong air conditioning has numerous attractive features. Our full review awaits below.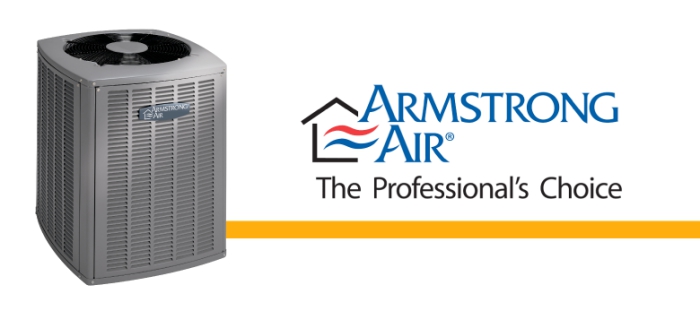 Armstrong Air Conditioning Overview
The Armstrong air conditioning is both suitable for home and office spaces. There are seven products under the Armstrong air conditioning line that have a slight difference in their specifications.
The 4SCU13LB, 4SCU13LE, 4SCU14LB, and the 4SCU14LE are earlier models that have lesser specifications compared to the newer versions. They have a single stage compressor feature that makes them work optimally from the beginning to the end.
The 4SCU16LS, 4SCU18LS, and the 4SCU20LX are the newer models that have the two single stage compressor feature that ensures power saving and offer convenience of a longer cooling period.
Armstrong Air Conditioner Technical Specifications
A two-stage compressor to help in energy saving and offer more cooling over longer periods for the 4SCU16LS, 4SCU18LS, and the 4SCU20LX models.
Compressor protection. The Armstrong air conditioners have inbuilt pressure switches that make it possible to stop the conditioner if the pressure inside is too much thus offering protection to the compressor.
They have a noise reduction sound blanket that reduces the noise when the machine is running. The other earlier models do not have this feature although they are not too noisy.
Some Armstrong air conditioning models like the 4SCU16LS, 4SCU18LS, and the 4SCU20LX have a control board that helps in detecting faults and errors to help address a problem before escalation. The control board also ensures optimal performance as any problem is easily detectable.
Pros and Cons of Armstrong Air Conditioning Systems
PROs
Very efficient: Most versions have a two-stage cooling compressor that ensures cooling over an extended period. It provides a convenient and easy way to keep rooms cool while maintaining efficiency, saving power, and maintaining minimal noise in the room. They feature components that work in real-time, making them easy to manage.
Energy saving: They are energy star rated, which means they are energy effective i.e. built to cool more and consume less.
Very affordable and gives value for your money through its attractive up-to-date technological features. The newer versions are a little more expensive than the older ones but more efficiency also comes at a slightly higher cost.
Long warranty that makes you comfortable and secure in case of a problem.
Ozone-friendly so you do not have to worry about polluting the environment compared to other air conditioning systems on the market currently.
A long lifespan. implying that you do not have to worry about replacing it after a short time. Most of them have a lifespan of 10 years and above.
Quieter. The newer versions are attractive since they have noise reduction features that make them efficient for offices and homes where minimal noise is important.
CONs
They are heavy and bulky implying that you will need help with their installation and transport. The lightest weighs between 1.5 and 5 tons, which is not favorable at all. The good thing about them, however, is that once installed, you do not have to move them frequently.
The air conditioner requires setting up by a professional since it is not easy to handle. Efficiency is at its maximum when the conditioner has been properly set up. An unskilled setup will not only bring inefficiency but also compromise the equipment's functionality.
If the space to use it on is big, you might have to use more than one conditioner. This means that you have to buy more than one conditioner, which might not be cost effective.
Some earlier models like the 4SCU14LE, 4SCU14LB, and the 4SCU13LE do not have the two-stage compressor feature and are noisier making them less effective compared to other models.
The 4SCU13LB is not energy star rated so it might not be as efficient in energy saving as the other Armstrong air conditioners on the market.
Things to Consider Before Purchasing Armstrong Air Conditioning Systems
Cost: the Armstrong air conditioning systems give you value for your money. There are other cheaper air conditioners in the market but it is also important to do a cost-benefit analysis to know whether to stake low and earn low or to stake on quality and get value.
Size and weight: it is imperative to make sure that you get a machine size that is appropriate.
Effectiveness: the Armstrong air conditioning systems, as noted above, saves you energy and provides cooling for a long time while reducing the noise, which is as effective as a cooler can get. Some of the air conditioners like the 4SCU13LB do not have the noise reduction and the energy saving features. As such, you can choose either depending on other factors like size and cost.
Warranty and lifespan: you need to consider the warranty provided by the manufacturer to give you peace of mind in case the product gets faulty. The lifespan also matters; who wants to replace something before he or she is satisfied that it had outlived its usefulness?
Why Armstrong Air Conditioning?
Air conditioners have flooded the market in recent times with manufacturers developing different brands with different specs. However, only a few of these brands work better than the Armstrong air cooler products that give you value for your money, save on power bills, and give you a chance to enjoy unmatched efficiency. Choose wisely. Get yourself an Armstrong air conditioning today. Do not forget to subscribe for more reviews and leave a comment.