The water heater that you've had for the past several years is on its last leg.
It's difficult to give it up, but something tells you it won't hold out for longer than a few months. It served you well over the years, but it's time for a new water heater.
You've been considering a water heater from the A.O. Smith line, a trusted brand with long-lasting products.
About A.O. Smith Company
A.O. Smith company has been in the water heating industry for over 70 years. It is a leading manufacturer in the heating, ventilation and air conditioning (HVAC) industry. The company is known for the quality and innovation in energy efficiency and tank protection, such as its signature glass lining. This material is A.O.'s patented technology, which has become ubiquitous in the water heating industry today.
As a way to keep customers informed on best practices when maintaining their water heaters, A.O. Smith company also features a Resources tab on their website.
Key Features of an A.O. Smith Water Heater
A.O. Smith company manufactures and innovates heaters and boilers both for residential and commercial applications by providing energy-saving models, designs and builds.
Here are some of the features common to many of A.O. Smith's products.
Blue Diamond Commercial-Grade Glass Coating
Blue Diamond is a commercial-grade glass coating, which provides stellar corrosion protection and longer tank life expectancy because of its higher quality material and advanced technology.
CoreGard Anode Rod
The CoreGard anode rod is made of stainless steel, protecting the internal metal surface of water tank heaters from corrosion. The standard models will use at least one rod, while advanced models will have two, resulting in longer warranties.
DynaClean Sediment Cleaning System
DynaClean sediment cleaning system uses durable dip tubes to ensure that less sediment build-up is accumulated from hard water sources.
Self-Powered Electronic Gas Valve
The self-powered electronic gas valve uses a microprocessor, thermopile and LED status indicator. It ensures that water heaters work with an enhanced performance that is independent of the external power source and is easily controlled and troubleshot.
Green Choice Burner
Green Choice is the eco-friendly burner designed to reduce greenhouse gases by up to 33%.
Flammable Vapor Ignition Resistant
All A.O. Smith water heaters are held to a "Flammable Vapor Ignition Resistant" standard that safeguards against the accidental ignition of flammable vapor outside of the water heater.
What Types of A.O. Smith Water Heaters are Available on the Market?
A.O. Smith offers several different types of water heaters for both residential and commercial environments. It also offers a range of boilers. Available on A.O. Smith's website, you'll be able to see how much you'll save on the amount of water used depending on your location. This data tool shows the number of minutes you'll have heated water, how many showers you can take, how many liters of water to fill your tub with and more.
Residential A.O. Smith Water Heaters
A.O. Smith company provides residents with water heaters that run on gas and propane, electricity, solar power or that are tankless.
Gas and Propane: Vertex 100 Power Direct Vent Gas Water Heater
The Vertex 100 is a water heater available in 75-, 50- or 25-gallons.
This A.O. Smith water heater features a 100,000 British thermal units (BTU) gas burner. It delivers a thermal efficiency of 96%, a Uniform Energy Factor (UEF) of 0.86 and a recover rate of 129 gallons per hour.
You'll receive a 6-year limited warranty with this product.
It also features a helical coil heat exchanger, which keeps combustion gases in the tank longer to lengthen the heat transfer cycle. Advanced electronic control helps to maintain precise temperature control.
Electric: Voltex Hybrid Electric Heat Pump Water Heater
This A.O. Smith water heater will reduce your water heating cost by 58% through a design that pulls environmental heat while dehumidifying and cooling the ambient air. It is available in 50-, 66- and 80-gallons.
The FPTU-80 uses heat pump technology rather than heating elements. It pulls heat from the surrounding air into the heat pump through a fan. Then, heat is absorbed by a refrigerant in the heat pump's evaporator coil. Next, the temperature of the refrigerant is increased as it is pumped by the compressor. Hot refrigerant is then passed through the condenser coil around the tank and transfers heat to your home's water.
It offers a user-friendly display, vacation mode to shut off heated water while you're away and a heavy anode that will protect your tank for 6 years.
It features a 2.73 Uniform Energy Factor (UEF) rating which conserves energy efficiently and meets the ENERGY STAR standards. You'll be able to select from the Efficiency, Hybrid or Electric modes to match your heating requirements to environmental conditions.
Tankless: Model AtI-510C-N Non-Condensing, Natural Gas/Propane Water Heater
This A.O. Smith water heater is fully modulating, gas-fired with a sealed combustion and power vented flue. It is capable of supplying hot water throughout your home as well it can be used with storage tanks, recirculation systems and combined domestic and heating applications.
The tankless unit uses up to 199,000 BTU of Natural Gas or Liquid Propane to deliver a max flow rate of 10 Gallons per minute (GPM). It achieves a UEF of 0.81 and has a 15-year limited warranty on the heat exchanger in residential applications.
When a hot water tap is opened, a flow sensor sends an activation signal to the onboard computer. The computer then activates the combustion system. Water is heated as it goes through the heat exchanger and an outgoing water temperature sensor keeps water temperature to within +/- 1°F of a set point. Once the hot water tap is closed, the heater turns off automatically.
Solar: Cirrex Solar System
This A.O. Smith water heater provides a unique thermal solution to your water heating. Cirrex solar water heating system uses direct energy from the sun to provide 70% of the energy used to heat your water.
Water heating accounts for 14% to 25% of the total energy consumed in a home. They come in second place after air conditioning and heating systems in your household energy consumption.
This solar-powered water heater is OG-300 certified by the Solar Rating and Certification Corporation (SRCC), which means with your purchase of this water heater you'd be eligible for many state and local utility rebate programs as well as to Federal tax credits.
Notable Line of A.O. Smith Water Heaters: ProLine
These A.O. Smith water heaters include ProLine, ProLine Master and ProLine XE. These water heaters are available to run on gas or propane, electricity or for tankless water heaters.
These water heaters are made of commercial-grade components for increased durability. They feature a glass lining signature to A.O. Smith water heaters that provides a strong protective barrier to prevent corrosion. They will also be installed by a professional A.O. Smith contractor who will follow correct installation procedures to ensure your and your family's safety.
These water heaters also have earned the ENERGY STAR, a tribute to their environmentally friendly features.
These are the ultimate water heaters for your family.
Commercial A.O. Smith Water Heaters
A.O. Smith offers several lines of commercial water heaters such as gas, electric, tankless, and solar water heaters. It also offers products such as storage tanks and tankless rack systems.
Gas Water Heaters
A.O. Smith has a variety of commercial gas water heaters such as Cyclone, Polaris, Master-Fit and Master-Fit Plus, Conservationist and circulating water heaters. Let's consider the Cyclone models.
This type of A.O. Smith water heater is built with excellent storage, with the website boasting up to 98% efficiency on these models. Four of these units can be combined together to provide total storage of 520 gallons and a total input of 2M BTU — making these heaters ideal for mid-sized restaurants and hotels with 50-300 rooms.
The Cyclone is designed to fit in corners for maximum installation flexibility. These water heaters come in the Cyclone Mxi, Cyclone HE and Cyclone Xi Power Direct Vent models.
Electric Water Heaters
A.O. Smith company also offers a wide variety of commercial electric water heaters such as the Dura Power XI Custom DVE and DHE High-Volume, Heavy-Duty Custom Xi DSE, Gold Series DRE and DVE, Dura-Power DEN and DEL, Light-Service and Dairy Barn. Let's consider the Dura Power XI Custom DVE and DHE High-Volume.
This type of A.O. Smith water heater is one of the largest commercial electric water heaters that A.O. Smith manufactures. It is ideal for recovery heating of all types of large commercial and industrial applications. They can also be customized to meet any special application.
Their capacities range from 150 to 2,500 gallons and are available with glass, cement or epoxy linings. It features heavy-duty elements that have Incoloy sheathing that provides protection against oxidation and scaling. They are available in vertical or horizontal design and have a three-year limited warranty.
Tankless Water Heaters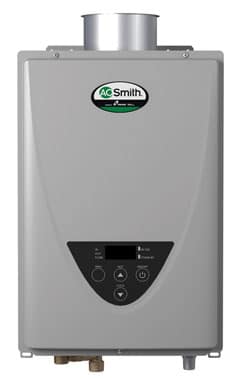 A.O. Smith also offers a wide selection of tankless commercial water heaters such as CT-199 Commercial Condensing Tankless, CT-910 Commercial Non Condensing Tankless, TX1 Integrated Commercial Tankless on Tank and CRS Commercial Tankless Tack Systems. Let's take a look at CT-199 Commercial Condensing Tankless water heater.
This A.O. Smith water heater functions at an input of 199,000 BTU. It is 96% thermal efficient and has a 0.93 UEF indoor and 0.95 UEF outdoor score. It is available for natural gas and liquid propane. It uses a copper alloy heat exchanger.
Solar Water Heaters
A.O. Smith company only offers a custom commercial solar water heating system.
The A.O. Smith water heater features a complete system with back-up or supplemental heat from electric heating elements, gas, boiler water, steam or other renewable energy sources. It also uses solar preheat for existing hot water supply systems. This system will also provide you with data on solar contribution, energy consumption, energy savings and carbon offsets.
Where to Purchase an A.O. Smith Water Heater?
A.O. Smith company features a tab on its official website which allows you to search for your local water heater installer via Google Maps. Simply enter your zip code to find a plumbing contractor near you to help with the installation of your water heater.
If you live outside of the U.S., feel free to explore the International Sales & Export tab on the website.
How Does A.O. Smith Company Compare to its Competitors?
One of the major competitors to A.O. Smith is Rheem.
Rheem offers good mid-level water heaters that are inexpensive. It has a reputation for manufacturing durable, reliable water heaters that would suit most home owners. It sells gas, electric, tankless, solar and hybrid styles of water heater models. Like an A.O. Smith water heater, Rheem's water heaters are ENERGY STAR-rated.
What is Public Perception of A.O. Smith Company Products and Services?
While A.O. Smith's official website boasts of the products' efficiency and innovation, consumers are telling a different story about the A.O. Smith water heater.
Many left reviews saying that the machines broke down often and frequently needed parts replaced. Some took advantage of the extended warranty on these products to repair the damages incurred.
However, some left reviews addressing that receiving a water heater that would need repairs within the next year or so was the luck of the draw. Some complained that Rheem products were no different. In this case, it is important to inspect your water heater monthly either professionally or on your own to ensure your heating system is running accordingly.
Final Verdict: Should You Buy an A.O. Smith Water Heater?
When considering whether or not to purchase an A.O. Smith water heater, be sure to think about if you want a gas or electric heater, the tank size, efficiency ratings and tankless water heaters.
With the amount of choice on the market today, you need to think carefully before making your choice on which water heater you would like.
Despite the issues of some have had with their water heater, you would still be purchasing a top-quality product that effectively gets the job done of keeping your water heated and saving you money at the same time.
FocusKeyword: A.O. Smith water heater