A very beneficial trend has taken rise in the past years and it regards 'green homes'. With the polar ice caps melting and the weather changing significantly, it has become clear we need to take far better care of the surrounding environment than we have done so far. What better or easier way to start than with our very own homes? Turning our houses into energy efficient units requires some changes, but they are not difficult to make. One of them is changing the heating facilities and, in this regards, pellet stoves have found their way into environment loving people's hearts quicker than any other solution. Here is a guide of everything you need to know in case you want to aid the planet and install a pellet stove in your home.
Picture 1
What Is a Pellet Stove?
A pellet stove is a specific kind of stove that uses wood or biomass pellets in order to create heat. It's mostly used in residential spaces, but it can be used in industrial ones as well. If the burner is constantly fed with fuel, the stove will produce a continuous flame, which needs little to no adjustment at all. The fact that they use the pellets is what makes these stoves achieve an energy efficiency factor of more than 90%.
The miniaturized pellet stove appeared for the first time in the 80s, in Washington. It was derived from the idea of using pine sawdust, in the shape of the Presto-Log, back in the 1930s, at the pine mills in Lewiston, Idaho. Pellet stoves can be either free standing units or pellet stove inserts into already existing stone fireplaces. In modern days, they are being constructed from steel or cast-iron pieces. Stainless steel is used to encase the circuitry and exhaust areas. Some pellet stoves are listed for some other types of fuel, rather than pellets, such as sunflower seeds, wheat, corn, or cherry pits. However, most pellet stove manufacturers recommend you use the special corn and pellet mixture designed for this.
A variation of the pellet stove is the corn stove, which uses whole corn kernels as combustions means, rather than pellets. Another difference between the two is that the corn stove has an added metal stirring rod in the burn pot. It can also come with an ash removal system. As far as energy efficiency goes, they are both great.
Pellet Fuel
You will find this material typically sold in bags weighing 40 pounds, at the price of $3 on average per pound. Many wood pellet stove users recommend beginners to buy it by the ton, because it can be hard to find sometimes and you don't want to be caught in the middle of the winter without any fuel to burn. An average sized house typically requires 2 or three tons of pellets a year. At the cost of approximately $200 a ton, you will find it really is energy efficient. You should also know that most pellet fuels have some moisture content, which is somewhere between 5% and 10%. Apart from that, certain types have petroleum or non-petroleum lignin in them, because it was used to lubricate the pellets while they were being manufactured. Most of them, however, are additive-free.
Picture 2
Some recommendations from experienced users state that one should always check the quality of the pellets before buying them. In order to do this, you can check the bag they come in for dust and dirt, because these two types of debris form clinkers when in the stove. Reviews show that, if the pellets are high quality ones, the bag they come in should hold less than half a cup of dust at the bottom. That is for a standard, 40 pound bag. You can find pellets at specialized suppliers, local tree nurseries, or stores that sell home and garden products.
Pros and Cons of Pellet Stoves
Even though they have been highly praised, some debate still remains around whether they are the best heating solution out there. So, in order to help you decide if this really is the best solution for you and your family, here are some pros and cons.
Pros
They are usually small and so are the pellet bags, therefore storing them will not be a problem and the stove will not disrupt your home's design or tear away from your limited space.

They are very easy to use, as they simply require you to load the pellets and light the flame. Actually, the smaller they are, the simpler it gets, because with the small models, you might even have to feed them just once a day.

Because of the pellets, the stoves create very little smoke and very little ash, which makes them extremely convenient.

Pellets, as show, are very cheap, which means your heating bills are going to reduce drastically.
Cons
If the pellets are not pricy, the stove itself is. It usually costs somewhere between $1,700 and $3,000 and it needs to be installed, which is an added cost.

They are usually made in the colder regions, such as the Pacific Northwest, which means you might have to drive up there to get it or have it shipped, which, again, adds to the costs.

If you live in a small house or in an apartment, if you don't have a barn, a garage, or any storage space, you will be required to go to the store for pellets very often.

Pellets aren't always available, at least not everywhere. In low plains regions, for example, that don't see many trees, they have to be brought in and that might not always happen.

They run on electricity, which means that if there's a power outage, it will go out. You can buy a generator so that you're prepared, but this is, yet again, an additional cost.
Pellet Stoves vs. Wood Stoves
Although, in essence they might seem like the same thing, pellet stoves and wood stoves are actually different in many ways.
Pellet stoves are more efficient than wood stoves. It takes far less pellets to get the stove going than wood.

Wood is much more expensive than pellets.

Wood stoves give out some 75 to 80% less BTUs than pellet stoves.

Unlike pellets, you need to buy wood in bulk and you might not have a place to store it all.

Wood stoves produce a lot more smoke and ash than pellet ones, which are almost zero maintenance.

Unlike wood stoves, pellet stoves run on electricity and they might fail you if the power goes out.
Picture 3
What Are the Best Pellet Stove Brands?
According to online reviews, here are the best pellet stoves you can buy:
Harman Pellet Stoves is one of the leading brands on the market today. They offer stand-alone units, which can be personalized according to your wishes.

Whitfield Pellet Stoves and Parts cover all your heating needs and more, offering chimneys, Quadrafire stove parts, solar products, and hearth accessories and pipes as well.

Breckwell has been an industry leader since 1987, they have dealerships in many places, and they offer great support should you run into any troubles.

Englander stoves offer Timber Ridge models for the US and Canada, and they also come with Summers Heat stoves, a very trusted brand all over the world.

Lopi stoves – have a great selection of both wood and pellet stoves.

St. Croix Stoves, Maine Stoves, WoodMaster, with the Forced Air pellet furnace 20 and 30 series, Avalon Fire Styles, Lowes, Enviro, Napoleon Fireplaces, and Accentra pellet stoves are some other brands, but less known on the market. You can also buy your stove at your local Home Depot or on eBay.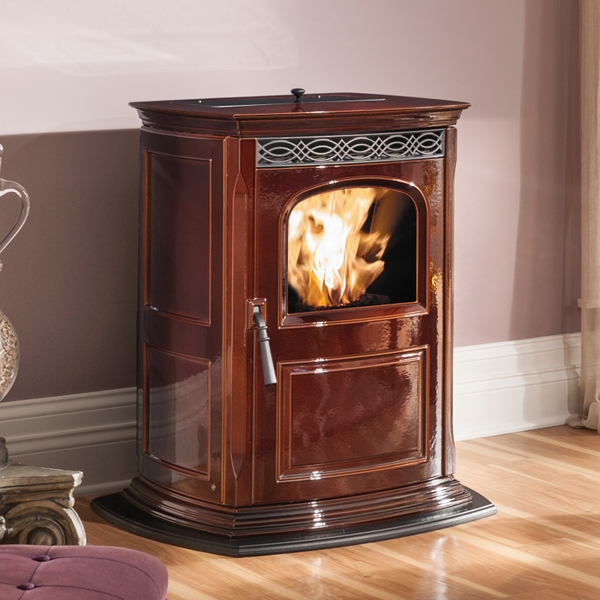 Picture 4
All these brands offer an enormous range of pellet stoves, which means it will be virtually impossible for you not to find the perfect one. Here are a few things to be on the look-out for when going shopping:
Decide in advance which type of pellet stove you want, stand-alone or an insert, a modern or a regency one.

Do some research and find out how the particular model you have in mind is rated.

Ask from the beginning about the price and be aware of the installation cost, which is usually not mentioned. Also, ask who exactly will be installing your stove.

Ask your seller about troubleshooting and if they will be able to provide the necessary support.

Look for all the things you don't understand in the stove's manual and ask about them. Remember safety is your first concern when it comes to stoves.

Try to get a top deal if you can, because, as mentioned before, pellet stove are not cheap. See if you can find them on sale or on clearance day.

Keep in mind that used pellet stoves need to be checked properly before purchase. They might have problems in how they vent, how they direction the hot air or even with the burning of the pellets.

Consider buying a window stove, if you have a small home, as they are safer as far as venting and furnace go.
There are many models and designs when it comes to pellet stoves, so it might prove daunting to find one for you. However, once you understand how they work and take into consideration a few basic things, such as the square footage of your home, your budget, and the pellet availability in your area, you're good to go green for the planet.