Chances are that you've seen Nest thermostats with their ultra-sleek round design that seems perfectly fit for a contemporary living room. It may even be the preferred look for a commercial space, but is that the design that you want for your home?
There are plenty of reasons why this may be the perfect way for you to go if you want to jump on board the smart thermostat train, especially if you want something simple.
As it is far more affordable than many of its counterparts, the Sensi still connects flawlessly to other smart devices making it easy to integrate into existing smart infrastructure. It's also extremely user-friendly, which is a definite plus if you want to set it and forget it.
What Is A Sensi Wifi Thermostat And How Does It Work?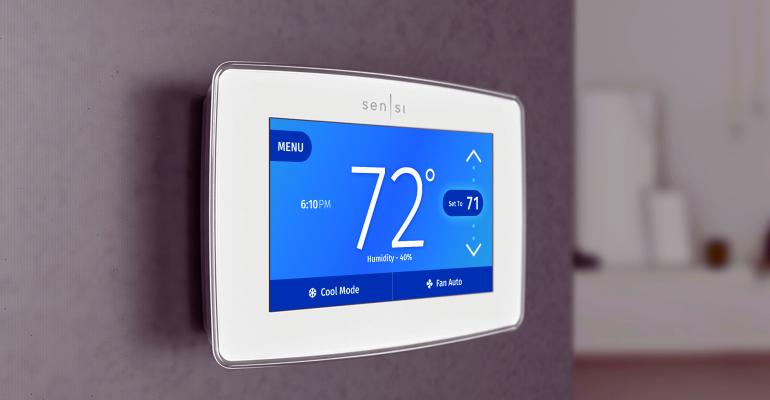 Beneath its seemingly plain demeanor, the Sensi wifi thermostat will surprise you with what it can do. While not exactly full of that "wow" factor, it can still compete alongside other smart thermostat veterans like Nest and Honeywell.
Emerson's Sensi does not replicate more modern designs and instead is reminiscent of thermostats of yesteryear with its rectangular design and simple interface. Even still, the buttons are quick to respond, the display is supremely readable, and it works with Alexa, too.
Installation is also easy for the DIYer. You can just as easily pull off your old thermostat off the wall and connect the Sensi without any issues because it doesn't need to connect to the C-wire to function properly. The only exception is if you will be connecting the thermostat to a heat pump system.
The simple design makes it easy for just about anyone to use. The associated app is also extremely user-friendly, as is the web portal. This smart thermostat will do what it is meant to do – control the temperatures in your home at the touch of a screen.
As a bonus, the Sensi wifi thermostat is also compatible with multiple systems including gas, radiant heat, and even geothermal systems. You can set the system up to work with up two different cooling stages and four distinct heating stages, too.
There are systems that are not compatible with the Sensi, so you'll want to verify whether or not yours will work. Examples of systems that are incompatible include things like proprietary designs, in-floor systems, and certain wall systems. If you're not sure, you should contact Emerson for more information to find out, so you don't accidentally hurt your system or your new thermostat.
What Makes Sensi Wifi Thermostat Unique?
In a world full of hype and things that look modern and end up costing more, Sensi is a sensible option in smart thermostats. With a company like Emerson behind it, this thermostat has a solid background of HVAC units to work with. Most of the other smart thermostat companies are newer and don't have the history that Sensi does with Emerson.
Some of the other perks of the Sensi include the way that they don't need extra wires. It works without needing a C-wire unlike other systems, and it will still pull the necessary power to make it function correctly. The only reason you'd need to consider a C-wire is if you had a system that was dedicated to heating or cooling only.
You can also program days individually which is great if you're going to need to have a different set up at random days of the week. This scheduling is easy to access, too, via the app or the web portal. You can even change it multiple times a day if you wanted to.
Most of the other smart thermostats learn your routine, but with Sensi, you tell it exactly what you want regarding temperatures and times of the day. If you need to override one setting with another, that's also easy to do with the tap of the screen.
Pricing Of Emerson's Sensi Wifi Thermostat
Pricing for the Emerson Sensi wifi thermostat is considerably less than its counterparts. You can find it on Amazon for less than $140 complete with Prime shipping.
As great as the price is, do keep in mind that there are some key features that are missing from the smart thermostat like motion sensors. The lack of certain features likely helps in keeping the price far more reasonable than other similar thermostats out.
There are features that the Sensi has, though, that you will appreciate. As an example, you can link Alexa to your Sensi so that it can talk to your thermostat. Then you can instruct Alexa to change the degrees as needed. It doesn't get much easier than that.
With every purchase, your Sensi will also have a three-year warranty that covers the thermostat. If you were to opt for professional installation, you could get an extra two years added to your warranty coverage.
Public Perception Of The Sensi Wifi Thermostat
There are over three thousand reviews on Amazon for the Emerson Sensi wifi thermostat. According to the stats, 65% of these reviews are 5-star commentary and reports.
Earl Ax left a thorough review about the Sensi stating that "This, Sensi, is what I want in a thermostat. Convenient, reliable, programmable, understandable. I am okay with a modest premium for being internet enabled. It's half the price of Nest and doesn't intimidate non-technical users. You can keep your auto-programming feature – I always fought with the schedule it created and with two young children we're home most of the time anyway. You can keep your monthly energy usage report – it didn't include enough detail to be useful anyway. And you can keep the space-odyssey design – it might be alright in the stainless-and-black kitchen, or media room, but it doesn't work upstairs."
Of course, just after that review, there's a 1-star review that is worth mentioning and considering as you make your decision, too. Denny C. writes, "Love the remote thermostat. App is simple to use and easy to access." It all sounds great as you read through the review, too. He writes that it's easy for those that prefer the DIY aspect of things like this. It's not until the very end that there is an update reporting the negative experiences that occurred. "The entire reason to get the Wi-Fi enabled thermostat was to be able to check and adjust the thermostat when not present. The Sensi is off-line at least 50% of the time."
Several reviews state the same thing about the thermostat being offline on a regular basis. In another one from Warren Jordan, you can see that the "Thermostat worked for months until I upgraded our router and internet service. After the new service was installed the thermostat has all kinds of connection issues and connects and disconnects randomly. I emailed the tech department and they blame the router. Which is an xfinity/commcast (sic) router that's in 80% of the businesses in my area. They gave me a list of tech crap to try that would likey (sic) fly the space ship and way above my tech grade. So I will throw this POS in the trash and buy a Honeywell. Judging by the random auto resets and strange connecting issues when I switched the thermostat to the new internet system. It seems that the thermostat is having some kind of issue between the old and new internet switch."
How It Compares To Other Smart Thermostats
Compared to others in the smart thermostat market, the Sensi wifi thermostat is basic and easy to operate. The design is well-suited for all sorts of people from the older generation to the younger tech-savvy generation. It is easy enough to use for people that hate technology because of its intuitive design. You might even say it's easier than programming a VCR – okay, easier than starting a YouTube channel.
If you really want something that looks a bit more modern and less like a traditional thermostat, you do have another choice. Back in 2017, Emerson introduced the Sensi with the color touchscreen. Functionality remains the same, but as far as looks go, it's a step up towards a more contemporary design.
Going with the color touchscreen can lead to a problem with reading the display thanks to a somewhat glossy display, but it's still not that difficult to read if you have the brightness all the way up. This is a marked difference from the Nest which has the clear, large, blue display that you are ready from across the room.
Seamless Technology
The app is also extremely user-friendly, unlike some of the other apps that are out there for some of the other smart thermostats. One of the features of the app is the way that you can adjust the temperature as much as you'd like without any issues. The only downside, if you can call it that, is that the Sensi will not learn your daily schedule. Honestly, though, that's not something you necessarily need.
That doesn't happen with the Nest. You have auto-programming that you have to deal with on the Nest, plus it requires more effort to change the temperature than the Sensi. Truthfully, unless you just like being on the cutting edge of all kinds of tech, the Sensi will do exactly what it is supposed to do without any unnecessary bells and whistles.
At the same time, there are other systems out there that also incorporate using Alexa like Nest and Ecobee3. These models, though, are much more expensive than the Sensi. It's a no-brainer to go with a Sensi because it is easy to work with, doesn't cost a fortune, and is ready to go as soon as you plug it in and configure it.
What We Think Of The Sensi Wifi Thermostat
We think the Sensi wifi thermostat is a solid choice for a smart thermostat. The app makes life easy for you, and it gives you plenty of information. As an example, you can see the expected highs and lows for the day in addition to the current temperature for where you are.
The bottom line is that the Sensi is a fantastic option if you want a smart thermostat that you can connect to via wifi. The fact that it comes from a company like Emerson speaks volumes of what you can expect in terms of quality as a product.
You won't have access to a history of usage reports, but unless you're one of those people that is obsessed with knowing what the temperatures are at any given time of day, it's just not an essential feature. We feel confident that you don't really need to have anything more than what the Sensi has to offer.
If you decide to go with it, weigh the reviews so you'll get that warm fuzzy about making the best choice for yourself. With the exception of the occasional network drop, which might be user error, you should be satisfied if you decide to move forward with the Sensi.