Lowes' Nest Thermostat
By Betty Stephens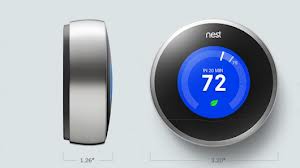 The Nest Learning Thermostat goes beyond this simple temperature detection to make a real impact in your HVAC energy consumption. A thermostat controls almost half one's energy bill more than TVs, computers, appliances and lighting combined, but a lot of that energy is wasted. A properly programmed thermostat can cut your heating and cooling bills by 20%. The problem is 89% of thermostats are rarely or never programmed. Nest also makes it incredibly easy to adjust your schedule. You can add, edit or remove set points in seconds from the Nest thermostat or the web and mobile apps.

The Nest Learning Thermostat is simple. Nest works with its owners' lives because Nest doesn't need to be programmed: It remembers your temperature adjustments and programs itself. When you turn the temperature up or down, Nest remembers what you like and automatically creates a schedule for you. As your life or the weather changes, that schedule automatically adjusts as Nest learns your new preferences.

Features like Auto-Away and Airwave automatically save energy. The Nest thermostat tells you when you're choosing an energy-efficient temperature or exactly how long it'll take to reach the temperature you want. Most people can install it themselves in about 30 minutes.
Saves Energy
The Nest Thermostat saves energy by using the following tools:
Auto-Schedule: Turn it up when you're cold, down when you're hot. Nest will remember the temperatures you like and learn your schedule. And as your life changes, Nest's schedule will automatically adapt.
Auto-Away: Nest senses when you're gone and turns itself to an energy-saving temperature that you choose during setup.
Energy History and Energy Report: Nest shows you exactly when your system was on and what affects your bill the most.
Nest Leaf: The Nest Leaf appears when you turn Nest to an energy-saving temperature or make an efficient choice in Nest's settings.
System Match: Nest uses SystemMatch to adapt to your system and activates features to maximize your comfort and savings.
Airwave: Airwave automatically turns off the air conditioner (A/C) a few minutes early, but keeps the fan running. The air stays cool, but you're A/C runtime drops 30%.
Wi-Fi
You can connect the Nest thermostat to your home's Wi-Fi network to control it from your iPhone, Android smartphone, iPad or computer. Software updates are loaded automatically as it stays connected to the Wi-Fi.
Who Is Behind the Nest Thermostat?
So, who is the brains behind Nest? Would you believe it's the same brilliant mind behind the iPod and iPhone? Prior to 2008, Tony Fadell was a legend at Apple. Fadell is the father of the iPod, having led the Apple team that had developed the first 18 generations of the iPod and the first three generations of the iPhone.
After he retired in 2008, Fadell concentrated on building his new house in Lake Tahoe. It was during that time that Fadell, who owns more than 100 patents, had an innovative idea to improve the thermostat. He took that vision to his former colleague Matt Rogers, who was responsible for iPod software development. Seeing value in the idea, Rogers joined Fadell in nurturing it to fruition.