Air Conditioning Contractors of America (ACCA)
By: Betty Stephens of Quest Media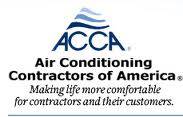 About ACCA
ACCA is a non-profit association serving more than 60,000 professionals and 4,000 businesses in the HVAC/R community. They work to promote professional contracting, energy efficiency, and healthy, comfortable indoor living for all Americans. ACCA is the only nationwide organization of, by and for the small businesses that design, install and maintain indoor environmental and building performance systems.
ACCA is the leading source for required EPA Section 608 refrigerant handling certification, offering tests for proctors, training for technicians, and convenience for contractors. And ACCA is a strong supporter of NATE certification for technicians, the only professional certification embraced by the entire HVACR industry.
They are the leading non-profit organization serving the indoor environment and energy services contracting community. ACCA develops the ANSI standards that ensure proper, quality design and installation of indoor comfort systems. The certificate in Residential Design for Quality Installation is developed, maintained, and presented directly by ACCA.
The organization is dedicated to excellence in the heating, ventilation, air conditioning and refrigeration (HVAC/R) industry. As the largest HVAC/R contractor organization, ACCA is committed to helping its members succeed. Some of the fundamental ways in which their efforts are seen, are in the technical resources and industry standards that will guarantee quality HVAC/R design, installation and maintenance.
They write the standards for the design, maintenance, installation, testing, and performance of indoor environment systems. They bring contractors together with other contractors through unique learning opportunities. They provide exclusive technical, legal, and marketing resources. Their Technical Manuals are the bedrock of air conditioning in America. ACCA procedures are required by many building codes and regional laws, and incorporated in many software programs.
Their Quality Accreditation programs are the only indoor environment industry accreditation programs built around real ANSI standards, offering peace of mind that participating contractors are following the right steps to ensure a quality installation.
HVAC/R System Design
The ACCA System Design Process is the industry standard for the proper design and installation of central HVAC systems. Their process is based on years of experience and the accurate application of specific methods, from system concept to testing the final installation.
ANSI Standards
The ACCA Educational Institute (ACCA-EI) is one of over a hundred organizations that develops standards and supports the American National Standards Institute (ANSI). ANSI approval of ACCA manuals, procedures and processes verifies that the principles of openness and due process have been followed in developing these materials, and that a consensus of those directly affected by the standards has been achieved.
ACCA's ANSI standards activity is overseen by their Standards Task Team, which forms subcommittees as needed to oversee specific standards development.
Government Affairs 
Decisions made in Washington and in statehouses around the country affect r contracting businesses every single day. For over forty years, ACCA has fought for contractor interests, and they have never been more focused and aggressive at protecting businesses than they are today. ACCA actively tracks legislation in Washington, DC and statehouses around the country that could impact contractors.
ACCA Conference
(March 17 – 20, 2014 in Nashville, TN) The ACCA Conference is the leading educational experience and industry marketplace for contracting business owners, held in conjunction with IE3: Indoor Environment & Energy Expo.